Cabinet approves subsidy to attract foreign tourists
OVER NT$5BN EARMARKED: The program would be funded with last year's tax surplus and be part of efforts to entice 6 million foreigners to travel to Taiwan
The Executive Yuan yesterday approved a Tourism Bureau proposal to allocate NT$5.3 billion (US$174.31 million) from last year's surplus tax revenue to attract international tourists in the next three years.
The bureau has funding to distribute the money — NT$5,000 each — to 500,000 international visitors, bureau Director-General Chang Shi-chung (張錫聰) told a news conference at the Ministry of Transportation and Communications in Taipei.
"The money will be given out through multiple tourism promotion events this year, rather than giving it all out at once," Chang said. "As such, not all international tourists would receive it."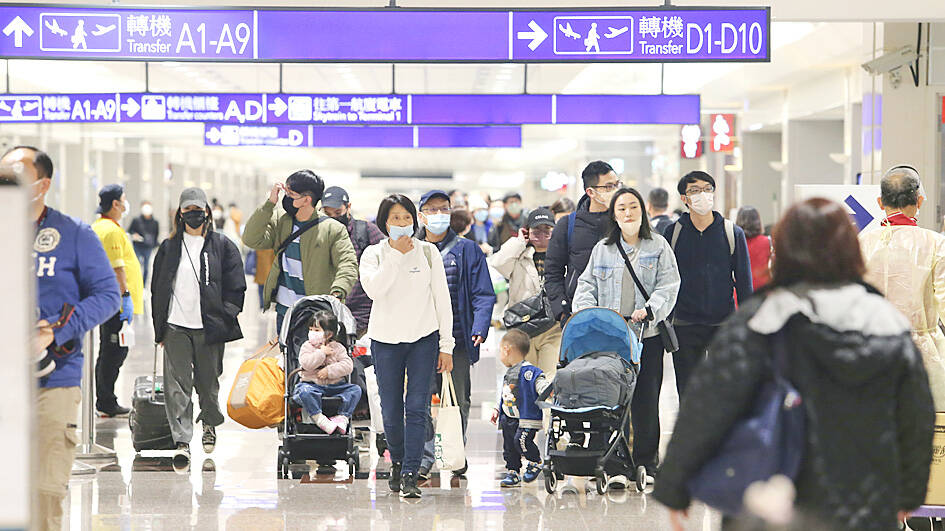 Travelers walk through a terminal at Taiwan Taoyuan International Airport in an undated photograph.
Photo courtesy of Taiwan Taoyuan International Airport
"International tourists who are given NT$5,000 will not receive it until they arrive," he said. "It will be stored in an electronic ticketing card, which can be used to pay for food, accommodation and other travel expenses during their time here."
The bureau would also offer incentives for domestic and overseas travel agencies to bring international tourists to Taiwan, Chang said.
A tour group from overseas would receive a subsidy of NT$10,000 if it has eight to 14 members and NT$20,000 if it has more members, he said, adding that there was enough money for 90,000 groups.
To address staffing shortages in the hotel industry, the government would help pay the salaries of new hotel employees, he said.
"Hoteliers will receive a bonus of NT$5,000 per month for each new staff member they hire," Chang said. "It will help raise the monthly salary of entry-level hotel employees in Taipei, Taoyuan, Hsinchu, Keelung and New Taipei City to NT$33,000 or more."
"Hotel employees in other administrative regions would see their monthly salaries rise to or above NT$31,000," he added.
The bonus could continue for up to one year, he said, adding that employers must not lower the salaries once the funding ends.
The bureau is planning to focus on attracting tourists from Japan, South Korea, Europe, North America and target countries of the New Southbound Policy, Chang said.
The 18 countries defined in the policy are: Australia, Bangladesh, Bhutan, Brunei, Cambodia, India, Indonesia, Laos, Malaysia, Myanmar, Nepal, New Zealand, Pakistan, the Philippines, Singapore, Sri Lanka, Thailand and Vietnam.
The goal is to attract 6 million international tourists this year, Chang said.
High-Quality of Travel Association chairman Ringo Lee (李奇嶽) said that the government should ensure that more sectors can benefit from the cash distribution to international tourists.
"The government should strive to have more international tourists visit central, southern and eastern Taiwan, not just the north," Lee said.
While it is important to offer incentives for overseas travel agencies to organize tour groups to Taiwan, the government should also encourage them to stay in hotels and hire tour buses run by Taiwanese operators, he said.
"The number of Taiwanese traveling overseas has far exceeded the number of inbound tourists," Lee said.
"Compared with nearby countries, we are relatively late in reopening the borders for international tourists and have fewer means to conduct international tourism marketing," he added.
The government should also restart all cross-strait flight routes, which would boost inbound and outbound tours, he said.
Comments will be moderated. Keep comments relevant to the article. Remarks containing abusive and obscene language, personal attacks of any kind or promotion will be removed and the user banned. Final decision will be at the discretion of the Taipei Times.