Okinawa to hold drill for possible conflict
FIRST TIME EVER: A preliminary plan envisages the evacuation of 120,000 people from the Sakishima Islands in the event of a cross-strait conflict, a newspaper said
Japan's Okinawa Prefecture is to hold an evacuation drill next month to prepare for a possible conflict in the Taiwan Strait, the Yomiuri Shimbun reported on Saturday.
It would be the first such drill in Okinawa, the Japanese prefecture closest to Taiwan.
An estimated 17,500 people per day could be evacuated by airlift and 3,000 could be evacuated by sea, the newspaper said, citing a preliminary plan, adding that it would take six days to complete the evacuation.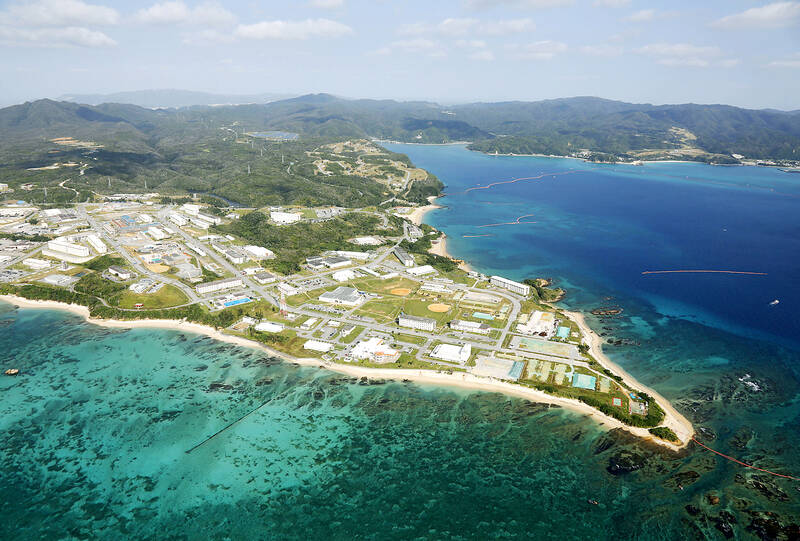 An aerial photograph shows the Henoko area of Nago, Japan, on Oct. 29, 2015.
Photo: AP / Kazuhiko Yamashita / Kyodo News
People on the Sakishima Islands, which lie between Taiwan proper and Okinawa's main island, would be evacuated to Kyushu in the event of a cross-strait conflict, the newspaper said.
The evacuees would include about 110,000 residents and 10,000 tourists in Miyakojima, Tarama, Ishigaki, Taketomi and Yonaguni.
About 1.37 million people on Okinawa's main island should stay indoors, according to the plan, it said.
Okinawa, seven prefectures in Kyushu and Yamaguchi Prefecture signed an agreement in 2006 to provide daily necessities, housing and personnel to each other during emergencies such as a military attack, the report said.
Okinawa has yet to draft concrete evacuation plans as required by Japan's Civil Protection Law, it said.
Following Russia's invasion of Ukraine in February last year, Okinawa in May began exchanging opinions with operators of airports and harbor facilities, civil aviation operators and ferry operators on the Sakishima Islands to gauge daily evacuation capacity, it said.
The prefecture plans to evacuate people via Miyako Airport, Shimoji Shima Airport and Hirara Port in Miyakojima; and New Ishigaki Airport and Ishigaki Port in Ishigaki using private aircraft and vessels, it said.
People would be taken to airports or harbors in Kyushu, such as Fukuoka Airport and Kagoshima New Port, the newspaper said.
The plan is still "very basic," Okinawa's disaster prevention and crisis management division chief Hidenori Ikehara was quoted as saying, adding that the government would continue to conduct scenario planning and training based on the basic plan to formulate guidelines for evacuation.
Comments will be moderated. Keep comments relevant to the article. Remarks containing abusive and obscene language, personal attacks of any kind or promotion will be removed and the user banned. Final decision will be at the discretion of the Taipei Times.