Lienchiang Internet to be restored by end of April
Internet service in Lienchiang County should return to normal by the end of April after an international cable maintenance ship on April 20 begins repairing broken undersea connections around the Matsu Islands, the National Communications Commission said yesterday.
Lienchiang County's online access is served by two marine cables — Taima No. 2 (台馬二號) cable connecting Dongyin (東引) Island to New Taipei City's Tamsui District (淡水), and Taima No. 3 (台馬三號) cable connecting Nangan Island to Taoyuan.
Both cables were damaged separately on Feb. 2 and Wednesday last week leaving residents with slow Internet connections and unstable phone service.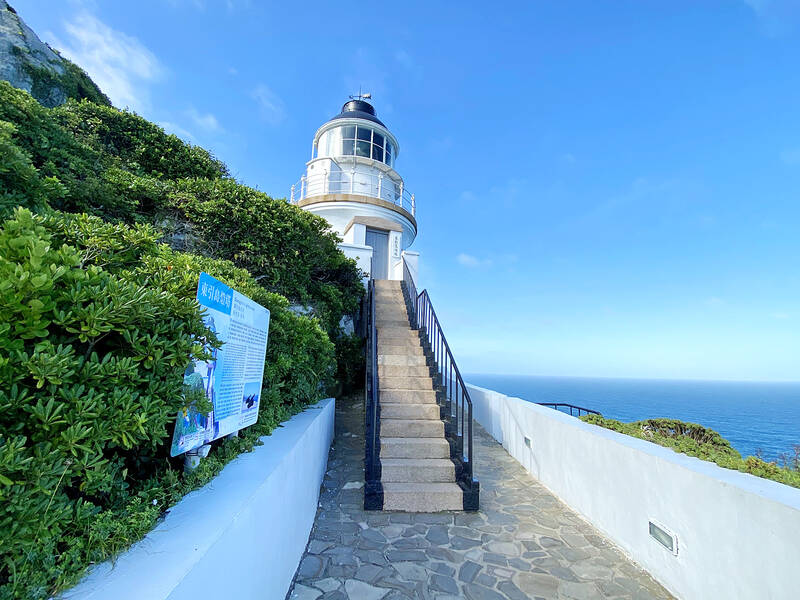 A lighthouse on Lienchiang County's Dongyin Island is pictured in an undated photograph.
Photo: Yu Chao-fu, Taipei Times
The Taima No. 2 cable was broken by a Chinese fishing boat, while the Taima No. 3 was damaged by a cargo ship, the commission said.
The incidents mark the second time that the two cables were broken within a short period.
Prior to the incident, the Lienchiang cables were frequently damaged by Chinese sand pump dredgers.
"It would take more than 10 minutes to send a text message, and sending a picture would take even longer," Democratic Progressive Party (DPP) Lienchiang County chapter director Li Wen (李問) told the Taipei Times.
"The booking system in hostels and logistics services cannot function normally either, let alone viewing content and films on social media," Li said.
Chunghwa Telecom (CHT) maintained service between Taiwan proper and Lienchiang County through a microwave backup system, which transmits telecom signals from a ground station in Yangmingshan National Park, Commission Vice Chairman and spokesman Wong Po-tsung (翁柏宗) told the Taipei Times.
Commission officials, Chinese Nationalist Party (KMT) Legislator Chen Hsueh-sheng (陳雪生) and Democratic Progressive Party (DPP) Legislator Hung Sun-han (洪申翰) inspected the microwave system on Tuesday, Wong said.
The company was asked to accelerate and stabilize Internet and phone services for Lienchiang County residents by expanding the bandwidth, he said.
The microwave backup system offers a speed of 2.2 gigabits per second (Gbps), Wong said.
CHT is aiming to expand the bandwidth to 3.8 Gpbs next month, 4.382 Gpbs in June and 8.148 Gpbs by the end of this year, Wong said.
Cable communication from Matsu to Taiwan has a speed of 8 to 9 Gbps, he added.
The Ministry of Digital Affairs is offering additional frequency bands to help the telecom expand the microwave system, Wong said.
CHT yesterday said it would waive monthly fees for Lienchiang County subscribers of its fixed network, Hinet, on-demand media and mobile services this month.
Undersea cables connecting Lienchiang County islands with Taiwan proper were damaged five times in 2021 and four times last year, CHT said.
The cost of repairing one cable varies from NT$10 million to NT$20 million (US$330,251 to US$660,502) CHT said, adding that the operation of a cable maintenance ship costs US$40,000 per day.
CHT said that it is considering installing an alert system to help it identify culpable parties that damage the cables.
The KMT caucus told a news conference that the undersea cables are basic national infrastructure, and could cause a national security crisis when both are broken.
The incident also exposed the fragility of the basic infrastructure in Matsu, the caucus said.
The Democratic Progressive Party (DPP) caucus accused China of deliberately damaging the cables considering how often they are broken.
"Beijing should stop its ships from harassing Taiwan and Lienchiang County," the DPP caucus said. "We also ask the KMT Deputy Chairman Andrew Hsia (夏立言) to protest the incident when meeting with Chinese officials, rather than following their political agenda."
Comments will be moderated. Keep comments relevant to the article. Remarks containing abusive and obscene language, personal attacks of any kind or promotion will be removed and the user banned. Final decision will be at the discretion of the Taipei Times.