Independent data protection agency mulled
AFTER BREACHES: The Executive Yuan said that it seeks to adhere to last year's Constitutional Court ruling that requires an independent mechanism
The government might establish an independent agency that would be in charge of personal data protection, the Executive Yuan told a news conference after a Cabinet meeting yesterday morning.
The announcement was made after data breaches were reported at China Airlines, Car-Plus Auto Leasing Corp and vehicle-sharing platform iRent.
The Constitutional Court in August last year ruled that the Personal Data Protection Act (個人資料保護法) and other laws must adhere to the Constitution by including an independent oversight mechanism to ensure that personal data privacy is protected.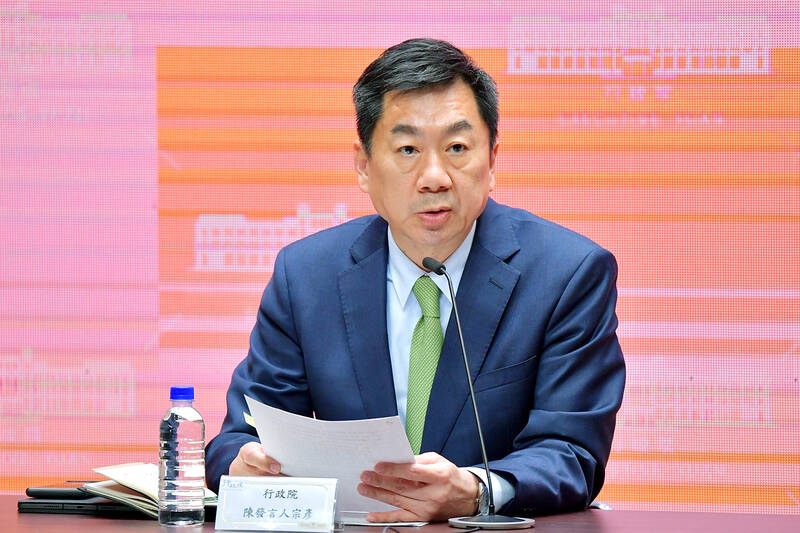 Executive Yuan spokesman Chen Tsung-yen addresses a news conference after a Cabinet meeting yesterday in Taipei.
Photo courtesy of the Executive Yuan
It further mandated the government to implement such mechanisms through a new law or amendments to existing laws within three years.
Premier Chen Chien-jen (陳建仁) has asked ministers without portfolio Lo Ping-cheng (羅秉成), Wu Tsung-tsong (吳政忠) and Kung Ming-hsin (龔明鑫) to investigate how such a legal mechanism should be implemented, Executive Yuan spokesperson Chen Tsung-yen (陳宗彥) told reporters, adding that the changes are also required by the National Human Rights Action Plan.
"It is essential that the mechanism operates independently," Chen Tsung-yen said. "Having a specific agency in charge of personal data-related issues is an option, but we will make further announcements after the three ministers without portfolio have reviewed all possible options."
Agencies that oversee laws related to the security and maintenance of personal data are required to report any major data breach to the Executive Yuan immediately, Chen Tsung-yen said.
Agencies must cooperate with officials at the Ministry of Digital Affairs and National Institute of Cyber Security as they conduct inspections and investigations, which would occur within three days after an incident is reported, he added.
A written report on any incident must be completed within 10 days after it was reported, he said, adding that it should be discussed at a Cabinet-level meeting within two weeks.
Meanwhile, Ho Ing Mobility Service, a subsidiary of automotive conglomerate Hotai Motor Co that runs iRent, was yesterday fined NT$200,000 by the Directorate-General of Highways for allowing the public release of personal information of 400,000 users, including their names, mobile phone numbers, home addresses and payment information.
"We found through an inspection last week that the company did not have a comprehensive data security and maintenance plan, which consequently caused its user data to be compromised. The platform operator was fined NT$200,000 for contravening the Personal Data Protection Act," the highway authority said.
The company was also ordered to submit supporting documents to show that it has fully addressed the data breach, the agency said.
The documents must be received before the 228 Peace Memorial Day, it added.
Comments will be moderated. Keep comments relevant to the article. Remarks containing abusive and obscene language, personal attacks of any kind or promotion will be removed and the user banned. Final decision will be at the discretion of the Taipei Times.