War preparation needed: experts
SELF-RELIANCE: Taiwan would struggle to receive aid in the event of an invasion, so it must prepare to 'hold its own' for the first 70 days of a war, a defense expert said
Taiwan should strengthen infrastructure, stock up on reserves and step up efforts to encourage Taiwanese to fight against an enemy, legislators and experts said on Tuesday last week.
The comments sought to summarize what the nation should learn from the Russian invasion of Ukraine, which has exceeded 300 days, since Feb. 24 last year.
Institute of National Defense and Security Research fellow Su Tzu-yun (蘇紫雲) said that the war in Ukraine highlighted the importance of being ready for war.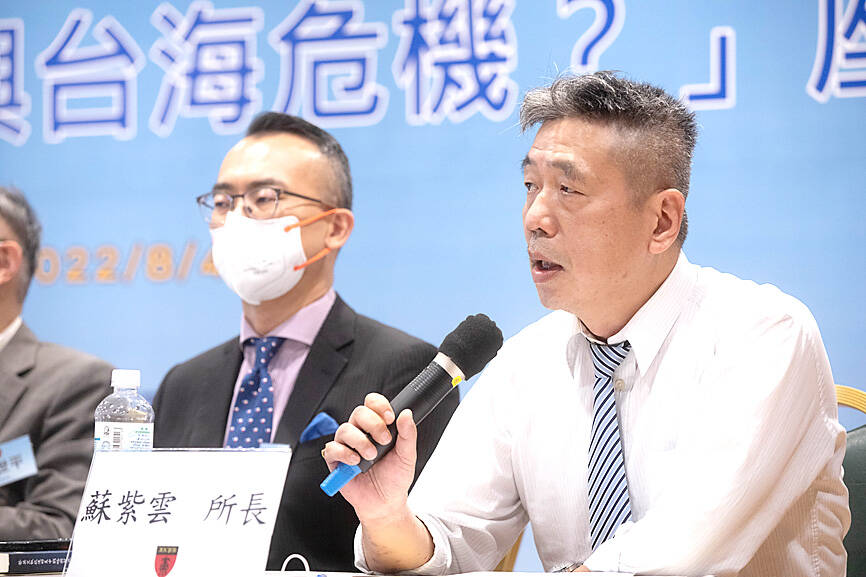 Institute of National Defense and Security Research research fellow Su Tzu-yun, right, speaks during a news conference on Aug. 4 last year.
Photo: CNA
Taiwan's development of an "asymmetrical warfare" doctrine and extending mandatory conscription to one year is a good start to preparation of defense against a possible Chinese invasion, he said.
War games simulated by the Washington-based think tank Center for Strategic and International Studies (CSIS) showed that while Chinese success in landing operations in Taiwan would be extremely low, as it is an island, it would be unable to receive aid like Ukraine, Su said.
The nation needs to inventory supplies, strengthen infrastructure such as underground railways, and repurpose abandoned tunnels for arms stockpiles, Su said.
Taiwan is prone to having its supply routes cut off, and it should acquire all supplies and equipment it needs before any war begins, Democratic Progressive Party Legislator Wang Ting-yu (王定宇) said.
Taiwan should attempt to improve its military hardware, and learn how to use its anti-ship and anti-air missiles better, Wang said, adding that the nation could also seek assistance from the US in bolstering its stockpile of precision munitions, as well as help in increasing missile range and accuracy.
As per the CSIS war games, if Taiwan were without US or Japanese aid at the start of an invasion, it is possible that it would have to hold its own for at least 70 days, Wang said.
Comments will be moderated. Keep comments relevant to the article. Remarks containing abusive and obscene language, personal attacks of any kind or promotion will be removed and the user banned. Final decision will be at the discretion of the Taipei Times.