Influencers' funding needs scrutiny: researcher
PROPAGANDA: Pro-China content that is externally funded is by law 'commercial speech,' and should be investigated by the government, a law professor said
The National Security Bureau should investigate the source of funding for influencers and key opinion leaders who post pro-China content that denigrates Taiwan, a researcher said on Monday last week.
A number of Taiwan-based content producers disseminate pro-China content and receive a significant income through donations, ad revenue and other sources, Southern Taiwan University of Science and Technology Institute of Financial and Economic Law director Lo Cheng-chung (羅承宗) said.
"Taiwan protects freedom of speech, regardless of whether you're pro-unification or pro-independence. However, if that speech is in exchange for money, that's recognized under law as commercial speech," he said.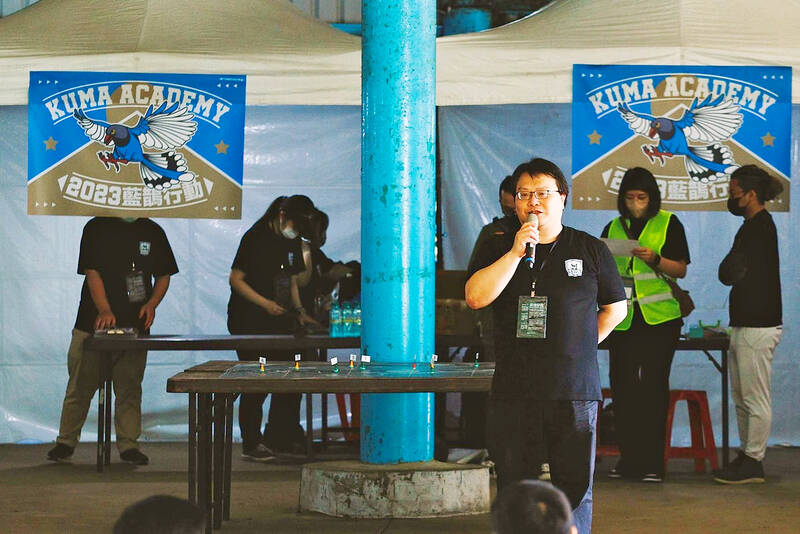 Kuma Academy chief executive officer Ho Cheng-hui speaks in an undated photograph.
Photo courtesy of Kuma Academy
"If Taiwanese influencers are receiving money from the Chinese Communist Party (CCP) for political advertisement, the Taiwanese government is able to exercise control over that," he said.
However, the tricky part would be for the government to prove that money was received for the purpose of disseminating Chinese propaganda, he added.
Security officials would have to trace unexplained increases in assets, and expenditures that are inconsistent with the content producer's income, he said.
"What percentage of the donations of the top 10 content producers in Taiwan comes from China or some other country? If the majority is coming from outside Taiwan, then obviously that's something that should be investigated," he said.
China's propaganda campaign is evolving and rarely involves use of traditional media, instead focusing on social media platforms such as TikTok and YouTube, he said, adding that videos posted there often contain disinformation.
"The CCP pays key opinion leaders to make dozens of videos on everyday topics, and then has them periodically slip in controversial content aimed at spreading its influence," he said.
"They also don't just use politics-focused key opinion leaders, they inject pro-China content into all types of channels including everything from celebrity gossip to travel and food-related channels," he said.
Kuma Academy chief executive officer Ho Cheng-hui (何澄輝) said he also noticed increased CCP activity in social media, as well as evidence that the CCP is training Taiwanese content creators, and is using marketing companies to help it increase the number of Taiwanese followers these creators have.
"There have been reports that the CCP co-opts Taiwanese marketing companies to help it promote pro-China videos," he said.
"It also uses social media to spread disinformation on key issues like elections in Taiwan, or Taiwan's pandemic measures," he said, adding that the government should ban TikTok and other Chinese platforms used by the CCP to spread propaganda.
Comments will be moderated. Keep comments relevant to the article. Remarks containing abusive and obscene language, personal attacks of any kind or promotion will be removed and the user banned. Final decision will be at the discretion of the Taipei Times.