FEATURE: Whisky becomes a collectible in Taiwan as connoisseurs snap up rare bottles
Whisky connoisseurs are a rapidly growing demographic in Taiwan, driving prices ever higher as collectors vie for the most coveted editions.
Although not a new pastime, whisky collection has been picking up steam in recent years.
According to the Scotch Whisky Association, Taiwan was the third-largest buyer of Scotch whisky in 2021 in monetary terms.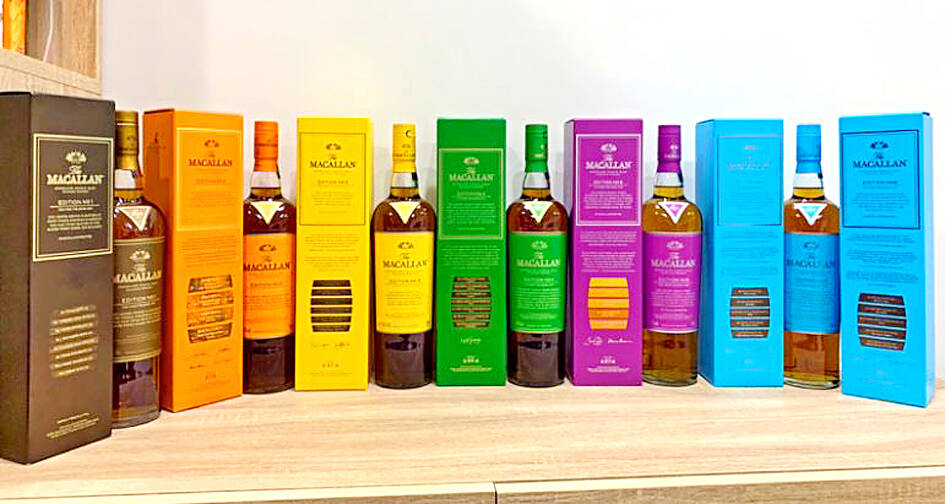 From left, bottles of Macallan whisky edition Nos. 1 to 6 are pictured in an undated photograph.
Photo: Wu Sheng-ju, Taipei Times Warning: Excessive consumption of alcohol can damage your health.
One collector, surnamed Fu (傅), said there are many types of whisky that are ripe for collecting.
One that has skyrocketed in price in recent years is the Macallan 12-year-old Gran Reserva, which bears a striking purple label, said Fu, who has more than 10 years of experience as a collector.
When it first came out, the bottle retailed for just more than NT$1,000, he said.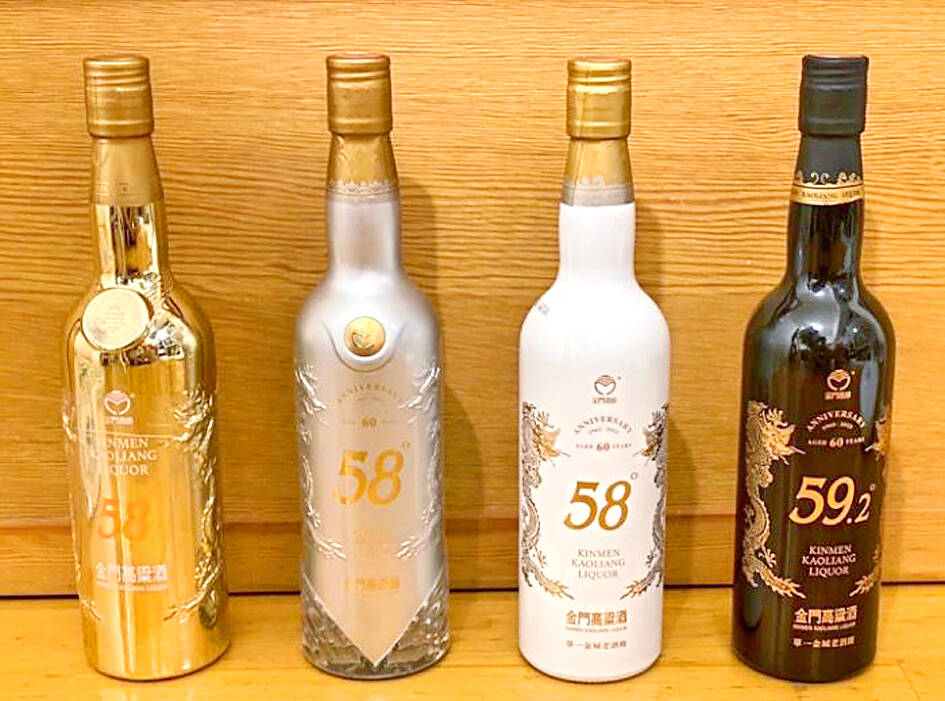 Bottles of kaoliang liquor produced by Kinmen Kaoliang Liquor Inc are pictured in an undated photograph.
Photo copied by Wang Kuan-jen, Taipei Times Warning: Excessive consumption of alcohol can damage your health.
More than a decade later the price has inflated to NT$25,000, creating resale opportunities for people who have held on to their stock, he said.
The Macallan sherry oak 12-year-old single malt Scotch with old bottlings can fetch five times as much as they did at release, rising from about NT$1,200 to as much as NT$6,000, Fu said.
The Macallan No. 1 to No. 6 editions have also appreciated rapidly, especially Edition No. 1, Fu said.
When it first came out, interest was low and it sold for only about NT$4,000 per bottle, he said.
Yet ever since Edition No. 4 hit the shelves, people have begun to take notice, he added.
A bottle of Edition No. 1 now sells for NT$50,000 or higher, and the prices of the other editions have risen alongside it, Fu said.
Another collector, surnamed Lai (賴), said that most expensive whiskies are from large distilleries.
Apart from being of high quality, many are vintage bottlings or have other significance, he said.
It is hard to go wrong with a single malt, sherry cask or vintage whisky, Lai said as suggestions for the casual drinker.
Japanese whisky collection has also become more popular in recent years, with some bottles that used to sell in the thousands of New Taiwan dollars now retailing in the hundreds of thousands, he added.
Considering the extreme price inflation, Lai said he would not recommend these choices for new collectors.
In general, when starting a collection, Lai advised against buying ultra-expensive or limited-edition whiskies.
Although they might appreciate over time, they are also risky investments, he said.
Lai instead recommended that beginners find vintage whiskies that are inexpensive and enjoyable to drink.
That way, if it does not appreciate, you still have a delicious bottle of whisky to enjoy and do not need to worry about the market, he added.
Only after gaining some experience would Lai recommend trying out speculative purchases.
Meanwhile, kaoliang liquor has also caught the eye of collectors, allowing Kinmen Kaoliang Liquor Inc to experiment with new marketing techniques.
Kaoliang collector Sung Hsiu-ming (宋修名) said that many attractively packaged bottles are available.
Yet when it comes down to it, quality is king, he said.
When selecting kaoliang, Sung recommended paying attention to three factors: taste, rarity and condition.
Collecting kaoliang as an investment can offer high returns, an expert surnamed Hsu (許) said.
The easiest way is to buy the year's most popular type, Hsu said.
For instance, the company's flagship 58-proof "platinum dragon," as it is popularly known, can be sold for a threefold profit after one or two decades, Hsu said.
However, there are downsides to this kind of investment, as the bottles need to be kept for a long time in suitable conditions and the packaging is monotonous, Hsu added.
For instance, the 1992 edition now sells for about NT$6,000 — or more than NT$10,000 if in pristine condition — while the original Year of the Rooster edition can also fetch more than NT$10,000, Hsu said.
Fu advised that sellers take care to keep the entire package, including the box.
The bottle should not receive direct light of any kind and buyers should avoid affixing any additional seals or labels, Fu said, adding that ambient temperatures of 20°C to 30°C should not be a problem, while it is still unknown whether fluorescent light would affect quality.
Bottles should be kept in a cabinet with desiccant if the room tends to be humid to keep the label from yellowing, as appearance has a huge effect on price, Fu said.
Meanwhile, buyers should check the color and clarity of the liquor to make sure it has not deteriorated, Fu said.
It is also important to check that it has not evaporated by making sure the level has not fallen below the neck of the bottle, or else the asking price can be heavily discounted as it shows the bottle was not well preserved, Fu added.
Comments will be moderated. Keep comments relevant to the article. Remarks containing abusive and obscene language, personal attacks of any kind or promotion will be removed and the user banned. Final decision will be at the discretion of the Taipei Times.