Probe demanded after alleged NHIA leak
'SERIOUS ISSUE': A DPP lawmaker said that the NHI database has sensitive medical and prescription records, which are a critical trove of data on the health of Taiwanese
Legislators on Monday demanded an investigation after prosecutors said they were probing three former and current National Health Insurance Administration (NHIA) employees over an alleged data leak.
The Ministry of Justice's Investigation Bureau said that the three allegedly leaked National Health Insurance (NHI) data from 2009 to last year, potentially to Chinese authorities.
Democratic Progressive Party (DPP) Legislator Michelle Lin (林楚茵) said that since the administration of former president Ma Ying-jeou (馬英九), Beijing has used the guise of "exchanges" to develop relationships with government personnel.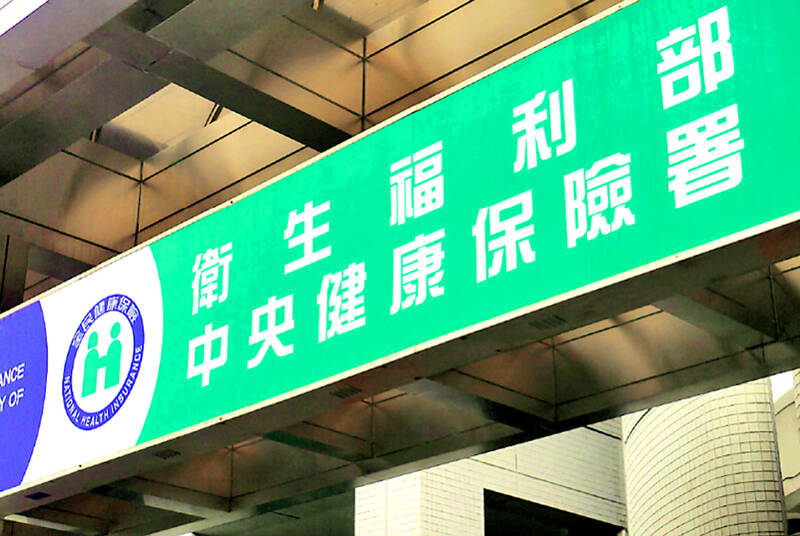 The logo and Chinese-language name of the National Health Insurance Administration are pictured in an undated photograph.
Photo: Lin Hui-chin, Taipei Times
It has not ceased in its attempts to obtain personal data, with its efforts including in 2015 replacing travel permits for Taiwanese with computer-readable cards, Lin said.
The NHI database includes sensitive medical and prescription records, constituting a critical trove of data on the health of residents of Taiwan, she said.
Even North Korean leader Kim Jong-un reportedly takes a toilet with him when he travels so his excrement cannot be tested for health information, she said.
If the health data of the president, dignitaries, business leaders or others have been compromised, it would constitute a serious issue of national security, Lin said.
In addition to its information and propaganda tactics, China is also trying to recruit former lawmakers, military personnel and NHI staff to obtain information, she said, adding that a thorough national security investigation must be conducted.
The purpose of the investigation would be to determine motives and other potential threats, DPP Legislator Liu Shih-fang (劉世芳) said, adding that merely paying lip service would do nothing to ease fear among members of the public.
The head of security at the NHIA should also clarify what information was leaked, and whether it was copied or directly transferred, Liu said.
NHI data are also valuable to insurance companies and scammers, she said.
This is not an isolated incident, but indicative of a long-term lapse in supervision at the NHIA, DPP Legislator Chang Liao Wan-chien (張廖萬堅) said.
The Cabinet needs to conduct a comprehensive security review of all public databases, including tax data, the NHI and the post office bank, Chang Liao said.
The alleged actions of one of the three accused, a current employee surnamed Hsieh (謝), would constitute a serious breach of the National Intelligence Services Act (國家情報工作法), prosecutors said.
Following questioning overnight on Monday, Hsieh was granted bail of NT$100,000 yesterday, prosecutors said, adding that they would expand the scope of the investigation to determine what data were leaked and whether others were involved.
The two other suspects, a retired chief secretary surnamed Yeh (葉) and a current employee Lee (李), were released without bail, prosecutors said.
Additional reporting by CNA
Comments will be moderated. Keep comments relevant to the article. Remarks containing abusive and obscene language, personal attacks of any kind or promotion will be removed and the user banned. Final decision will be at the discretion of the Taipei Times.