Nationwide TikTok ban being studied by government
SECURITY THREAT: The government is trying to raise public awareness of TikTok's potential to be used by Beijing to spread disinformation and wage cognitive warfare
The Executive Yuan is delaying a decision to ban TikTok nationwide as government departments are examining the feasibility of such a measure, spokesman Lo Ping-cheng (羅秉成) said yesterday at a weekly news conference.
Lo made the comment in response to a question about reports that the Cabinet is seeking to outlaw the popular Chinese app.
The short video platform owned by China-based ByteDance Co (字節跳動) has sparked national security fears in many countries.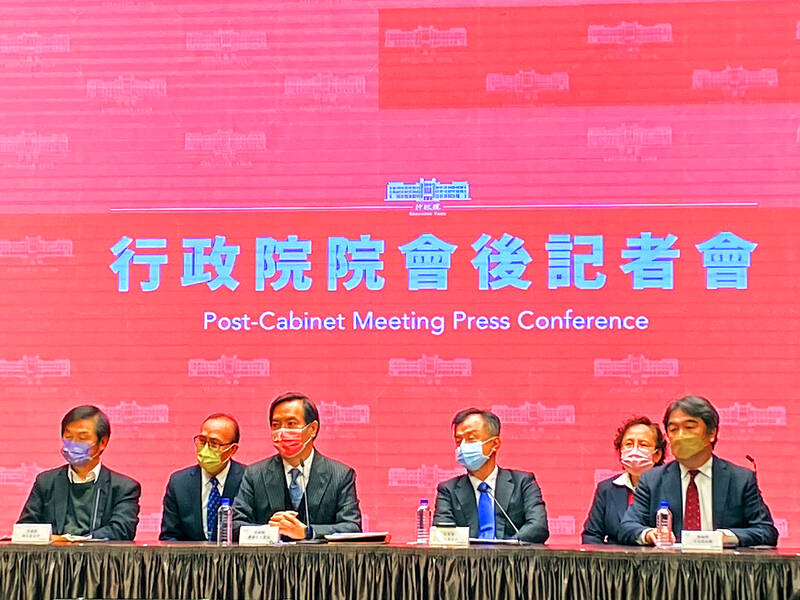 Executive Yuan spokesman Lo Ping-cheng, third left, attends a news conference at the Executive Yuan in Taipei yesterday.
Photo: Chung Li-hua, Taipei Times
FBI Director Christopher Wray last month said that the app is a threat to US security.
Officials are studying the legal ramifications of a ban, and whether measures adopted by other countries have been successful, Lo said.
The Executive Yuan is not directing a policy decision, and is waiting for feasibility studies to be concluded, he said.
The Cabinet has assembled a task force to ensure that a 2020 prohibition on government offices from using Chinese social media platforms, including TikTok, is being adhered to, Lo said.
The task force is additionally to study the effects of Chinese-owned social media apps being used nationwide, he said.
The Ministry of Education has been conducting a drive to raise public awareness of the possibility that TikTok could be used by Beijing to spread disinformation and wage cognitive warfare against the country, in addition to its negative effects on children's well-being, Lo said.
Taiwan's ban on government workers' use of TikTok is in line with actions taken by other countries, he added.
India is the only country to impose a nationwide ban on TikTok, although its efficacy remains unknown, Lo said.
"More discussion and data gathering is required before we can conclude that a ban would work, and to know whether other countries have achieved their intended results," he said.
"Any prohibition or regulation that can affect the freedoms and lives of Taiwanese must be weighed carefully by the government," he said.
When asked if a TikTok ban would be discussed at the Executive Yuan's Boxing Day cybersecurity conference, Lo said that the event participants would discuss cybersecurity threats in general, including those posed by other Chinese platforms.
Social media users in India have been able to bypass the block with a virtual private network, or by changing the region settings on their phones, which is an issue being studied by Taiwan's representative office in India, a person familiar with the matter said.
The government in Taipei faces a greater number of legal constraints in its regulatory powers than India does, the person said.
Comments will be moderated. Keep comments relevant to the article. Remarks containing abusive and obscene language, personal attacks of any kind or promotion will be removed and the user banned. Final decision will be at the discretion of the Taipei Times.