University submersible completes record two-hour underwater dive
Taiwan's first indigenous mini-submarine completed a nearly two-hour underwater dive in August, National Sun Yat-sen University (NSYSU), which developed the vessel for scientific research, announced the record-setting achievement and held a demonstration dive yesterday.
NSYSU President Cheng Ying-yao (鄭英耀) and Wang Chau-chang (王兆璋), a professor at NSYSU's Institute of Undersea Technology, yesterday took the two-person vessel to operate a 20-minute demonstration underwater dive in the docks of domestic shipbuilder CSBC Corp. at Kaohsiung Harbor.
The NSYSU submersible can currently reach a depth of 50 meters, but hope that in the future it will be upgraded to carry three people and reach a depth of 500m, which would then be able to facilitate underwater maritime surveys on offshore wind power and undertake coral reef observation, Wang said , who also heads the Taiwan Ocean Research Institute.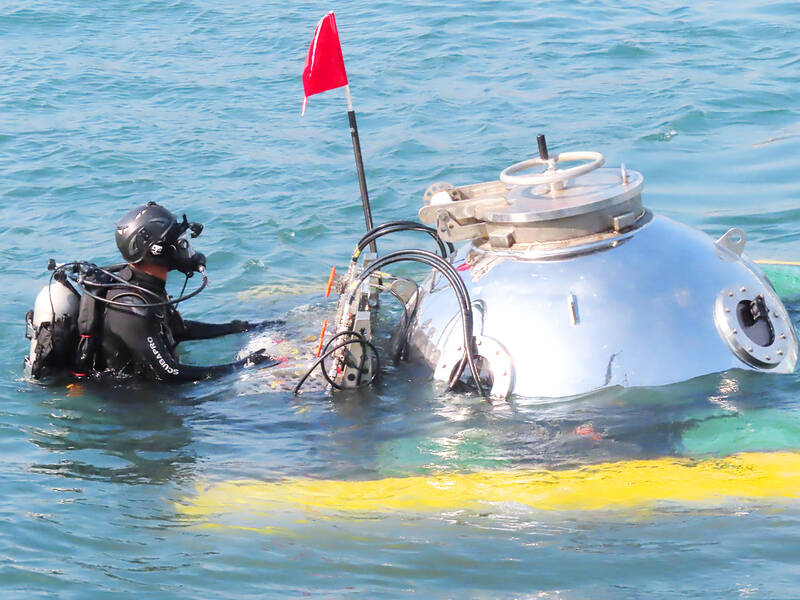 A researcher from National Sun Yat-sen University floats next to Taiwan's first indigenous submarine at a harbor near Kaoshiung yesterday after a 20-minute demonstration. The vessel was developed by the school's research team and completed a nearly two-hour dive in August.
Photo: CNA
The submersible carried out its first manned underwater dive for 1 hour and 31 minutes in June. In August, another test dive was conducted over two days in waters off Liuqiu Island, Pingtung County, and it remained underwater for nearly two hours, setting a new record, professor Wang Chua-chin (王朝欽), who led the submarine development team, said.
The Kaohsiung-based university said it plans to carry out another deeper and longer dive in April next year, and before it also would start to develop a new next-generation submersible.
Comments will be moderated. Keep comments relevant to the article. Remarks containing abusive and obscene language, personal attacks of any kind or promotion will be removed and the user banned. Final decision will be at the discretion of the Taipei Times.