Cabinet proposes heavier penalties for overseas job scam
The Cabinet yesterday approved a draft amendment of the Organized Crime Prevention Act (組織犯罪條例) to aggravate penalties for criminals involved in luring people into extraterritorial organized crime, after a number of Cambodia-based scam operations were found to have Taiwanese associates.
Currently, according to the Act, the recruitment of people to organized crime would be punished by a jail sentence of between six months and five years and a fine of up to NT$10 million, regardless of whether the crimes take place in Taiwan or overseas.
Under the proposed amendment, any offense related to recruiting Taiwanese to join a criminal organization outside the territory of the Republic of China would result in a prison sentence of between one and seven years, and a fine of up to NT$20 million (US$653,648), according to the Cabinet.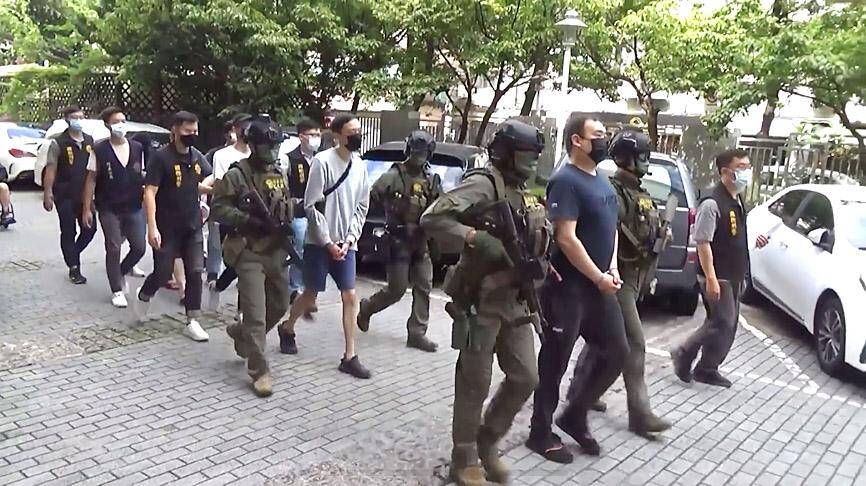 Police escort suspected members of a human trafficking ring involved in job scam cases on July 8, 2022.
Photo: Chiu Chun-fu, Taipei Times
If offenders target victims who are under 18, the punishment will be increased by up to half.
Meanwhile, the amendment added a clause stating that the property of any group which supports a criminal organization such as providing funding or recruitment shall be confiscated after deducting any amount belonging to victims.
The amendment, drafted by the Ministry of Justice, will be referred by the Cabinet to the Legislature for deliberation.
Should the amendment pass the Legislature, people convicted for involvement in trafficking Taiwanese to Cambodia to work for criminal organizations engaged in activities such as telecom fraud, sexual exploitation and organ removal, shall be subject to the more severe punishment, the ministry said in a statement.
As of Dec. 12, the government has assisted in the return of 403 Taiwanese, many of whom were allegedly lured to Cambodia with offers of fake lucrative jobs and then forced to work for criminal organizations, but around 300 people are believed to still be held in the country against their will, according to the Ministry of Foreign Affairs' (MOFA) news release.
Comments will be moderated. Keep comments relevant to the article. Remarks containing abusive and obscene language, personal attacks of any kind or promotion will be removed and the user banned. Final decision will be at the discretion of the Taipei Times.