TSMC Phoenix fab spurs creation of 'Little Taipei'
The building of a Taiwan Semiconductor Manufacturing Co (TSMC) plant in Phoenix, Arizona, is expected to lead to the creation of a "Little Taipei" over the coming year, as TSMC employees and related companies move in, a Phoenix-based real-estate agent has said.
TSMC is investing US$12 billion to build a wafer plant in northern Phoenix that is scheduled to begin mass production in 2024. The company on Tuesday held a "tool-in" ceremony to mark the installation of the first batch of equipment at the fab.
Some TSMC employees have moved into newly constructed apartments in a community 10 minutes' drive from the plant, while several other residential units are under construction, the Central New Agency (CNA) learned on Monday.
Real-estate agent Lu Mu speaks to a reporter in front of a housing complex near Taiwan Semiconductor Manufacturing Co's plant in Phoenix, Arizona in an undated photograph.
Photo: CNA
A TSMC engineer, surnamed Lin (林), recently arrived in Arizona with his wife and their two-year-old daughter.
Lin said they have been staying in a hotel since their arrival a couple of days earlier and would move to their new home in a few days.
Working as a dispatcher in the US is a rare experience, Lin said, adding that he planned to send his daughter to a local preschool.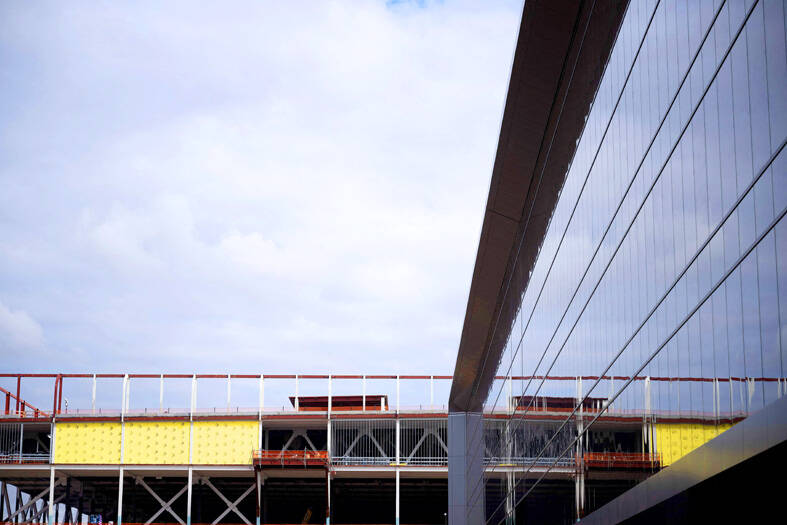 The Taiwan Semiconductor Manufacturing Co fab being built in Phoenix, Arizona, is pictured on Tuesday.
Photo: AFP
Lin said his job duties in Arizona are basically the same as in Taiwan.
Real-estate agent Lu Mu (盧慕) said that the apartment complex, dubbed "TSMC Village," is close to the fab.
The neighborhood features a coffee shop and gas station, as well as a shopping mall, supermarket, movie theaters and restaurants, Lu said.
The fab is expected to boost the local housing market, bringing in a large number of employees and investors to Phoenix, he said, adding that more apartment complexes are likely to be built in the city.
The COVID-19 pandemic has prompted many employees in the US to switch to remote work, fueling an exodus from major cities, Lu said.
Arizona is a popular destination for many Americans to start a new life, with a cost of living lower than most other US states, he added.
Some people have moved to Union Park, a new community about 10 minutes' drive from the TSMC fab.
Ben Frie served as vice president of sales and marketing at a top 500 US company and moved to northern Phoenix from Kansas three years ago.
Frie said he is pleased to see TSMC arrive in the city, as it would bring jobs and drive up housing prices.
Michelle Chang (張聖儀), president of the Taiwanese Chambers of Commerce of North America, said that about 40 companies that support TSMC's operations have established facilities and offices in Phoenix, causing commercial property prices to more than double over the past year.
TSMC's new plant has not only given a boost to peripheral industries, but also spurred Taiwanese food and beverage companies interested in making inroads in the city, including 85°C Bakery Cafe, bubble milk tea brand Sharetea and fresh fruit tea brand Dayung's.
85°C Bakery Cafe opened its first store in the city on Friday last week. It is the company's 67th outlet in the US.
Bank of Taiwan also opened an office in Phoenix in June.
When Arizona Governor Doug Ducey visited Taiwan at the end of August, he said that Phoenix's "Little Taipei" was gradually taking shape.
Chang said that "Little Taipei" would grow next year after Taiwanese companies move into the area.
Comments will be moderated. Keep comments relevant to the article. Remarks containing abusive and obscene language, personal attacks of any kind or promotion will be removed and the user banned. Final decision will be at the discretion of the Taipei Times.