Ministry considers tougher motorbike test
REAL-WORLD EXPERIENCE: The DGH said it is considering asking riders to take the motorcycle test on the open road or add open road driving as part of the training
The Ministry of Transportation and Communications is considering making the motorcycle license test more difficult by including a road test given the high number of motorcycle accidents in Taiwan.
As of August, 16,482 motorcycle accidents had been recorded in Taiwan, leading to 30 deaths, National Road Traffic Safety Commission data showed.
Currently, riders must pass a written test and a driving test in a controlled setting to secure a motorcycle license. They are not tested on the open road.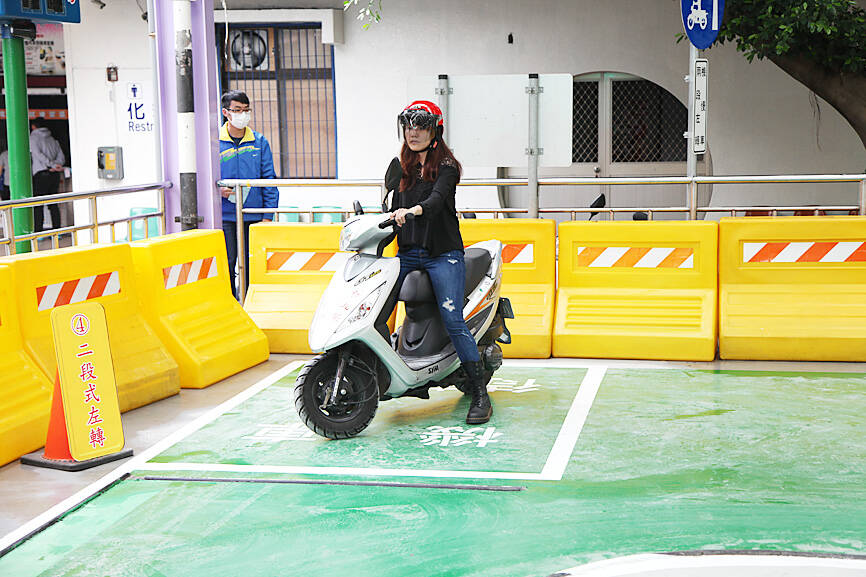 A woman takes a motorcycle license test in Taipei in an undated photograph.
Photo: Cheng Wei-chi, Taipei Times
To reduce casualties due to motorcycle accidents, the Directorate-General of Highways (DGH) encourages people to complete a motorcycle training course before taking their test by giving a limited number of people who do so NT$1,300.
The highway authority plans next year to subsidize 40,000 people who volunteer to take a motorcycle training course, up from 20,000 people this year, DGH Deputy Director Chang Shun-ching (張舜清) told reporters at the agency's headquarters in Taipei.
The DGH is also considering increasing the difficulty of the motorcycle license test by asking riders to take the test on the open road, rather than at a testing ground.
"We have proposed two possible options for a trial run of a road test for motorcyclists. The first option is to encourage motorcycle riders to participate in an open road driving course offered by drivers' schools after they obtain a motorcycle license. This option requires few supporting measures and could be launched in the first half of next year once routes and locations for the course are determined," Chang said.
"The second option is to include open road driving as part of the training course. However, this would necessitate an amendment to traffic regulations, which would require motorcycle riders to obtain a learner's permit and buy liability insurance, and rules to be stipulated for coaches. The trial run might not begin next year if this option was chosen," he said.
Both options would be presented to the ministry, which would make the final decision, Chang said.
Before the open road test becomes part of the motorcycle license test, the agency is planning to make it more difficult for motorcyclists to pass the license test, Chang said.
More questions testing motorcyclists' defensive driving skills would be added to the written test, while testing grounds would include signs and signals that would test if they stop or yield for pedestrians and vehicles, and have a correct understanding of right of way, he said.
Comments will be moderated. Keep comments relevant to the article. Remarks containing abusive and obscene language, personal attacks of any kind or promotion will be removed and the user banned. Final decision will be at the discretion of the Taipei Times.