Deployment of research ships to be coordinated
COAST GUARD INVOLVEMENT: Chinese actions led to neighboring countries raising caution, a lawmaker said, after incidents with Chinese and Japanese patrols
The National Science and Technology Council said it would hold meetings with national security and coast guard officials before dispatching research vessels, after a legislator revealed that there have been 11 territorial conflict-related incidents involving research vessels over the past five years.
As Taiwan's exclusive economic zone overlaps with those of other countries, including China and Japan, its research vessels are occasionally driven away by those countries' coast guard ships.
At a legislative budget hearing on Wednesday, independent Legislator Huang Kuo-shu (黃國書) asked the council about its plan to handle harassment of research vessels.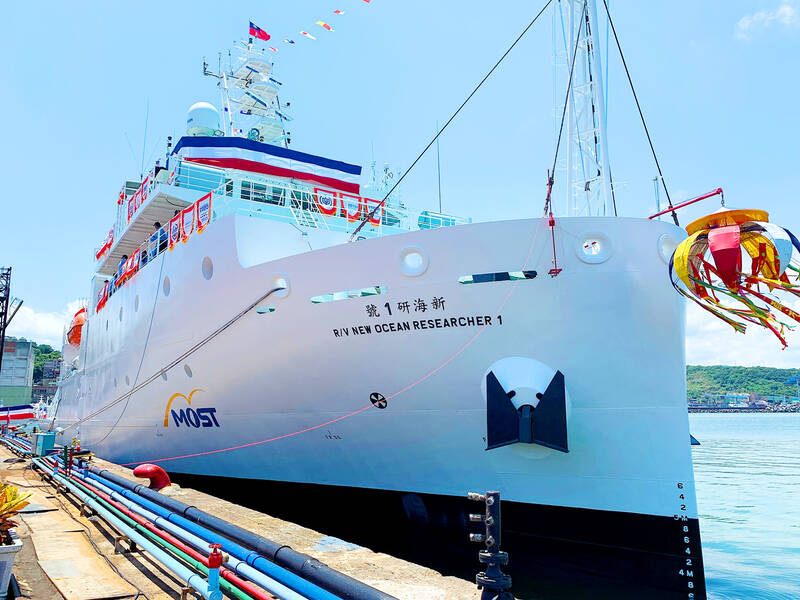 National Taiwan University's New Ocean Researcher 1 is moored in Keelung on July 21, 2020.
Photo: Lin Hsin-han, Taipei Times
One incident occurred in late September when National Taiwan University-operated New Ocean Researcher 1 (新海研一號) was conducting research off eastern Taiwan, Huang said.
Believing it was operating in Japan's exclusive economic zone, a Japanese coast guard ship issued a warning to the vessel, he said.
The Taiwanese coast guard sent its 500-tonne Hualien patrol boat as a precautionary measure, resulting in a 10-hour standoff, he added.
After the incident, the Chinese Ministry of Foreign Affairs made representations to Tokyo asking it not to interfere with "China's research work," Huang said.
Calling the incident "embarrassing," Huang asked council Minister Wu Tsung-tsong (吳政忠) to respond, as well as restart the Taiwan-Japan Maritime Affairs Cooperation Dialogue.
Wu reiterated that China had no right to raise representations with Japan over the incident.
As a Taiwanese coast guard vessel arrived on the scene, Wu said he assumed that foreign affairs and national security personnel resolved the matter.
The annual Taiwan-Japan maritime dialogue has halted for nearly two years due to the COVID-19 pandemic, although it should restart now that the borders have opened, he added.
Huang said Taiwanese research vessels have been harassed by foreign ships 11 times over the past five years, citing council data.
In two incidents, the vessels were pursued by Chinese ships within 1 nautical mile (1.85km), he added.
Even a joint research project with the Philippines encountered harassment by Chinese ships, Huang said, adding that the Philippine government handled the issue.
Beijing's increasingly aggressive gray area tactics have caused neighboring countries to raise their guard, affecting Taiwanese maritime research, Huang said, urging the government to review its navigation and notification mechanisms.
Wu said that incidents are not handled by the council alone, but in cooperation with the National Security Council, the coast guard and other agencies.
He vowed that that National Science and Technology Council would hold meetings with other agencies before research vessels are dispatched, to clarify the vessels' tasks and procedures.
Comments will be moderated. Keep comments relevant to the article. Remarks containing abusive and obscene language, personal attacks of any kind or promotion will be removed and the user banned. Final decision will be at the discretion of the Taipei Times.