Taiwan's first female baseball umpire to be honored for gender equality work
Sophiyah Liu (劉柏君), Taiwan's first female baseball umpire, is to receive a special commendation at the Sports Elite Awards next month for her dedication to achieving gender equality in sports, the Sports Administration said.
Liu, 43, "has dedicated herself to issues related to sports diplomacy and gender equality in sports. Aside from publishing the Woman in Sports magazine, she has been raising funds to help female teenage athletes from underprivileged families obtain comfortable sports underwear," the agency said in a statement.
Liu has advocated for gender equality in speeches on school campuses and in public, it said, adding that she hosted a workshop to teach child and teenage athletes about the importance of maintaining physical boundaries and protecting themselves.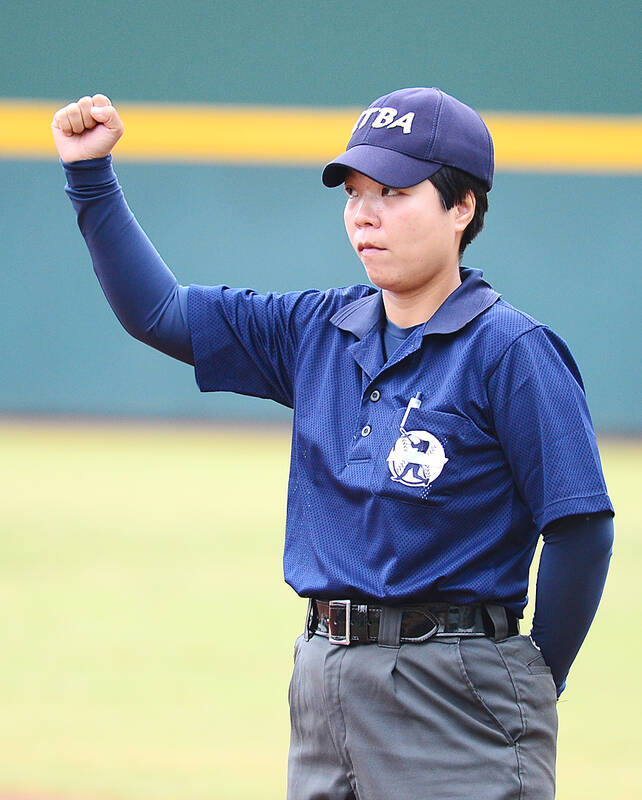 Baseball umpire Sophiyah Liu is pictured in an undated photograph in Taipei.
Photo: Wang Yi-sung, Taipei Times
Liu became Taiwan's first baseball umpire when she was 27.
She told the Chinese-language Commonwealth Parenting Magazine in April that her bid to join the baseball varsity team in her junior-high school was rejected simply because she was a girl.
Because of her reported ability to communicate with spirits, Liu worked as a medium at a temple during high school. Her experience inspired the HBO Asia TV series The Teenage Psychic.
While studying at the National Taipei University, she began working as a volunteer at baseball games.
She said she majored in social work at university, because "a spirit medium and a social worker both exist to help people."
Liu, who experienced domestic violence, worked at the Garden of Hope Foundation to help women and children experiencing domestic abuse to find jobs and resources.
She established the Taiwan Sport Forward Foundation, which helps student athletes in rural areas by providing tutoring, paying for their after-school study programs or offering financial aid.
Liu said that the foundation is a combination of her love of baseball and her experience as a social worker.
Liu was selected to participate in the Global Sports Mentoring Program in 2017 and was chosen by Forbes magazine in 2018 as one of the 25 most powerful women in international sports.
Liu converted to Islam in her 20s, and has said that reading the Koran "makes her calm" and "has changed her life."
Meanwhile, former Republic of China Sports Federation chairman Chang Chao-kuo (張朝國) is to receive a lifetime achievement award in sports for his contribution to the development of weightlifting in Taiwan at all levels of education.
"Taiwanese weightlifters won four gold medals, two silvers and four bronzes over six Olympic Games. Chang definitely deserves credit for such an extraordinary achievement," the Sports Administration said.
The agency is to announce the winners of the Best Female Athlete, Best Male Athlete, Best Coach, Best Sports Team, Best Rookie and Best Sports Spirit Awards in a ceremony on Dec. 9, it added.
Comments will be moderated. Keep comments relevant to the article. Remarks containing abusive and obscene language, personal attacks of any kind or promotion will be removed and the user banned. Final decision will be at the discretion of the Taipei Times.