Taiwan and China not 'drifting apart'
There is no indication that Taiwan is physically moving away from China, the Central Weather Bureau said on Wednesday, after people on social media said that GPS data showed Taiwan moving east.
The Earth's mantle is exerting pressure on the Eurasian Plate, the Philippine Sea Plate and the Pacific Plate, gradually changing the shape of Taiwan proper, bureau Director-General Cheng Ming-dean (鄭明典) said.
However, he said the nation is not moving east from the vantage point of the Eurasian Plate, on which China lies.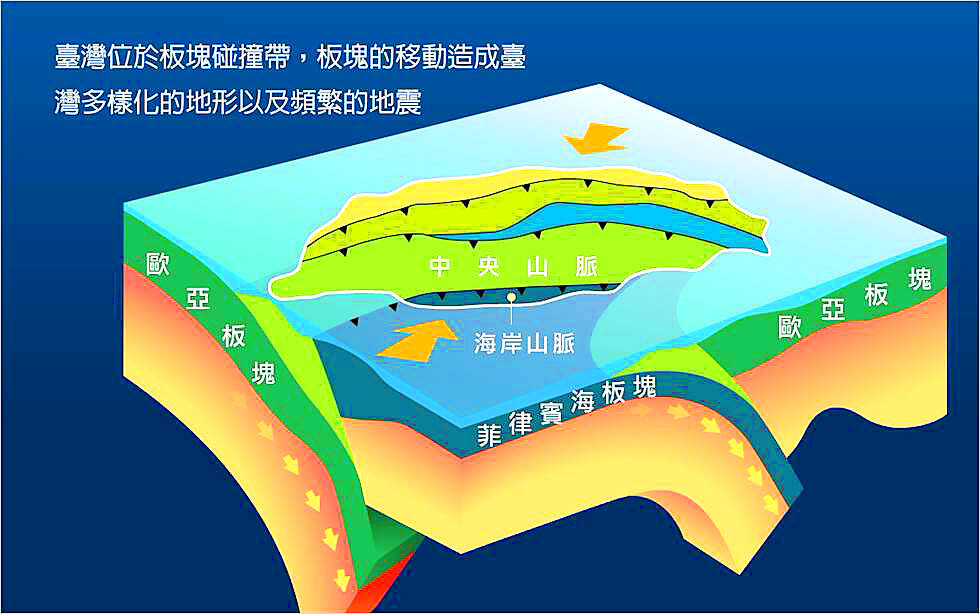 The tectonic plates under Taiwan proper are represented in an undated schematic.
Photo courtesy of the Central Weather Bureau
The Pacific Plate and the Philippine Sea Plate subduct into the mantle under the Central Mountain Range, while the Eurasian Plate is moving over the former plates, Cheng said.
GPS data might show a gradual eastward movement of landmarks west of the Central Mountain Range, but this affects the whole Eurasian Plate and does not mean that Taiwan and China are "drifting apart," he said.
On the contrary, the same forces might in the distant future push Taiwan and China closer together, he said.
The shape of Taiwan proper would also change, with the east coast taking a concave shape and northern Taiwan becoming broader, he added.
Governmental researchers monitor changes in Taiwan's tectonic position by using data from 450 GPS observation stations, the bureau wrote on Monday.
Comments will be moderated. Keep comments relevant to the article. Remarks containing abusive and obscene language, personal attacks of any kind or promotion will be removed and the user banned. Final decision will be at the discretion of the Taipei Times.