Changhua mascot pirated despite online mockery
Despite a large number of people calling it ugly on social media, the Changhua County Government's new mascot has already been pirated by sticker vendors on the Line messaging app.
The mascot, created to attract volunteers for the Changhua Department of Social Affairs, was unveiled last month, followed by an Internet-based poll on its name.
The contest backfired as the mascot triggered a wave of derision on the Professional Technology Temple, the nation's biggest online academic bulletin board system, with a top comment suggesting it should be named "Doritos," referring to the US-made tortilla chips.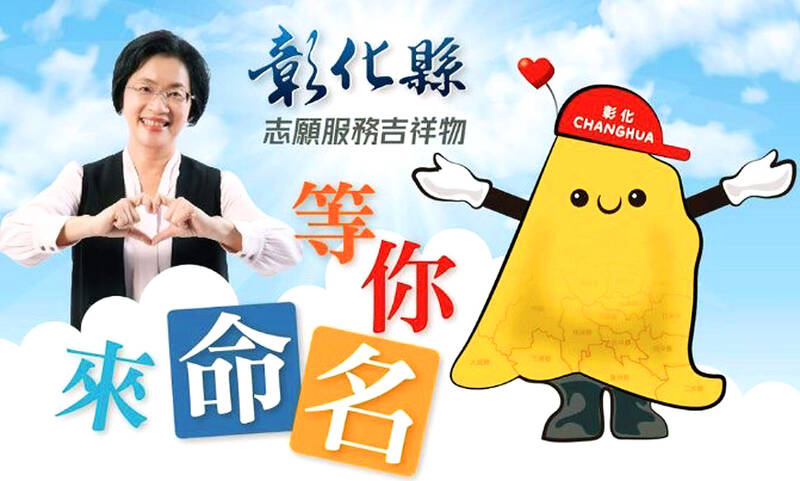 Changhua County Commissioner Wang Hui-mei is pictured in a poster with the new mascot for the Changhua Department of Social Affairs.
Photo courtesy of the Changhua County Government
The mascot is based on Changhua's map, anthropomorphized to have a face and limbs, and wearing baseball cap bearing its name.
Logo pirates were apparently not deterred by the mascot's lack of popularity, as a sticker virtually identical to its design went on sale through Line for NT$30.
Department Director Wang Lan-hsin (王蘭心) said the county did not authorize the mascot's design for commercial use or have any role in making the sticker, adding that the naming poll would not conclude until tonight.
"A request will be sent to pull [the sticker] from circulation," she said. "The county is taking steps to obtain intellectual property protections and does not rule out taking legal actions."
The county has no plans to monetize the design, and any potential proceeds would be used to help disadvantaged groups, she said, urging people not to buy the Line sticker.
Additional reporting by CNA
Comments will be moderated. Keep comments relevant to the article. Remarks containing abusive and obscene language, personal attacks of any kind or promotion will be removed and the user banned. Final decision will be at the discretion of the Taipei Times.