Golden Horse to feature documentary on first Taiwanese expedition to South Pole
A documentary about the first all-Taiwanese expedition to the South Pole is to be shown at the Taipei Golden Horse Film Festival next month, organizers said on Wednesday.
The documentary, Nature of Mother (無邊), follows a group of five Taiwanese adventurers. It was directed by Yang Li-chou (楊力州), whose 2006 work My Football Summer (奇蹟的夏天) won the Golden Horse Award for Best Documentary that year.
Yang also directed the Discovery Channel version of Nature of Mother, released in 2019 as Antarctica Expedition (前進南極點).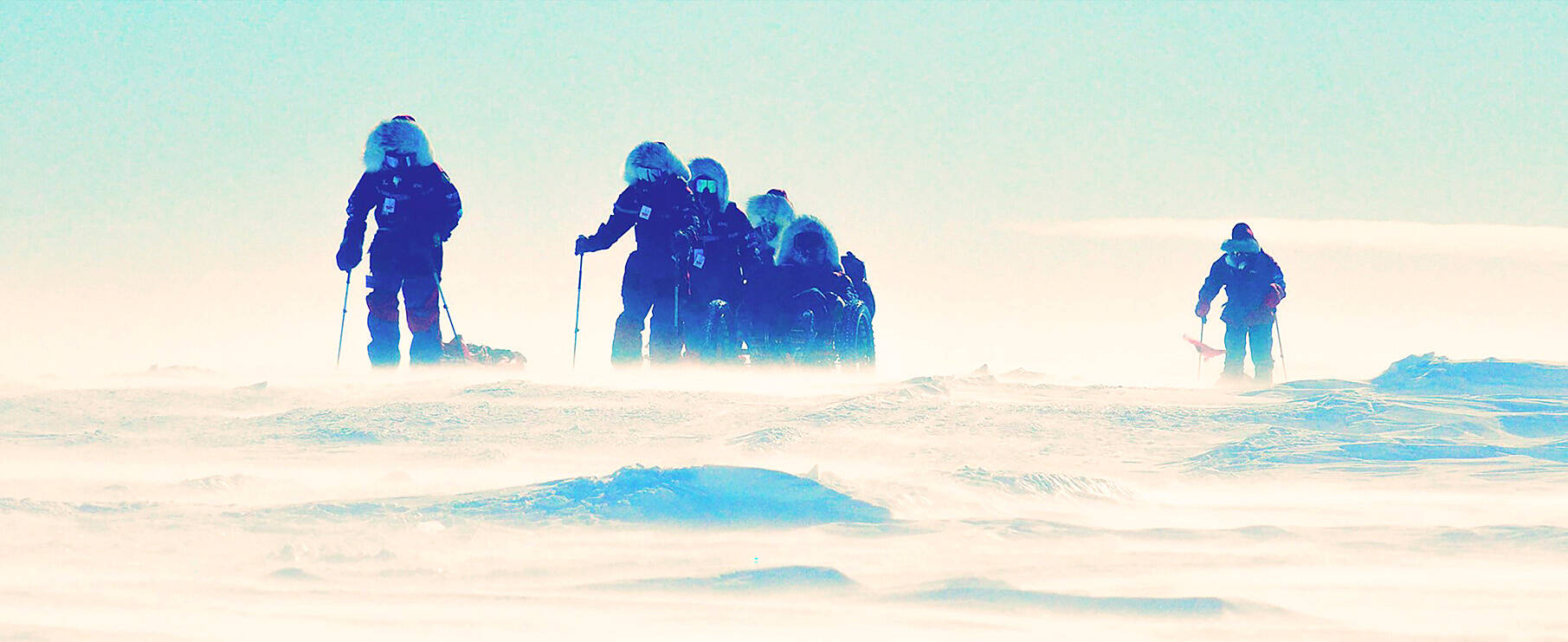 Members of Taiwan's first team to reach the South Pole trek through the Antarctic in a screen grab from the documentary Nature of Mother.
Photo courtesy of the Taipei Golden Horse Film Festival via CNA
The expedition included Albert Liu (劉柏園), chief executive officer of Taipei-based company Gamania which sponsored the event through its foundation, extreme sports athlete Tommy Chen (陳彥博), travel and adventure TV show host Chris Wang (宥勝), students in their 20s and a film crew led by Yang.
Liu, who had previously explored the North Pole, said that the South Pole expedition was designed to be the first visit by Taiwanese to the world's southernmost point and aimed to encourage young people to have the courage to pursue their dreams.
The Gamania Cheer Up Foundation previously said that the team left Taipei on Nov. 13, 2018, and headed to Chile, from where they set out on their expedition.
However, after encountering blizzards and complications relating to their rations, the group decided to take a detour to reduce the distance, although it was more challenging than the original route. The team reached their destination on Dec. 22, 2018.
Nature of Mother is to be screened at the Taipei Golden Horse Film Festival held from Nov. 2 to 20. Tickets to the movies being shown, including a number of Mandarin-language features, documentaries and shorts that are celebrating their world premiere, can be purchased on the festival's Web site from 1pm on Oct. 22.
Comments will be moderated. Keep comments relevant to the article. Remarks containing abusive and obscene language, personal attacks of any kind or promotion will be removed and the user banned. Final decision will be at the discretion of the Taipei Times.