Taiwanese have first contact with porn at 14: study
Taiwanese on average first use pornographic material at the age of 14, an international survey found on Wednesday.
Researchers at National Cheng Kung University, who conducted the survey in the nation, said 50.2 percent of Taiwanese respondents said they used pornographic material two to three times per month over the past year.
Lin Chung-ying (林宗瑩), an associate professor at the university's Institute of Allied Health Sciences, said the results indicate that Taiwanese are less sexually active than people in other countries, especially in the West.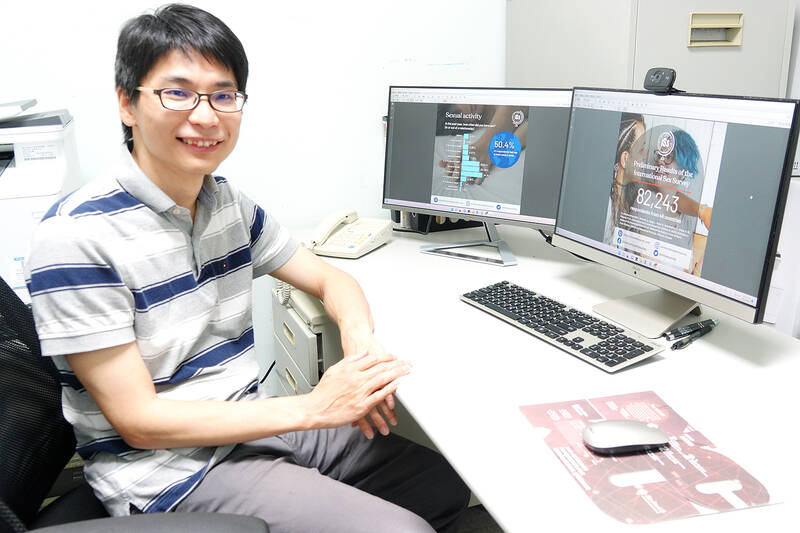 Lin Chung-ying, an associate professor at National Cheng Kung University's Institute of Allied Health Sciences, poses for a picture in an undated photograph.
Photo provided by National Cheng Kung University
Taiwanese on average masturbate 10 percent less often than respondents from other nations in the survey, Lin said.
The average age Taiwanese have sex for the first time is 21, the survey showed.
Taiwanese who are in a relationship on average have sex two to three time per month, it showed.
A concern in Taiwan is that people start using pornographic materials too early, which might result in them developing unrealistic ideas about sex and might affect their health, Lin said.
The study, conducted from October last year to July, surveyed more than 82,000 respondents in 45 countries.
It surveyed 2,685 Taiwanese aged 18 to 74 from October to December last year.
Although respondents in Taiwan were not randomly sampled and the results might not accurately represent the entire population, Lin said the research still establishes a foundation for future research.
Comments will be moderated. Keep comments relevant to the article. Remarks containing abusive and obscene language, personal attacks of any kind or promotion will be removed and the user banned. Final decision will be at the discretion of the Taipei Times.