Panda has brain disease; Chinese experts mulled
The Taipei Zoo yesterday said it would not rule out inviting experts from China's Sichuan Province after its giant panda Tuan Tuan (團團) was found to have a brain lesion.
The zoo initially thought Tuan Tuan had epilepsy when it had a three-minute seizure on Aug. 23, it told a news conference to give an update on the panda's condition.
However, magnetic resonance imaging (MRI) on Sunday showed that the panda had local large-scale necrosis and edema on the left side of its brain, zoo veterinarian Cheng Chiu-hung (鄭秋虹) said, adding that vets were giving it anticonvulsant drugs.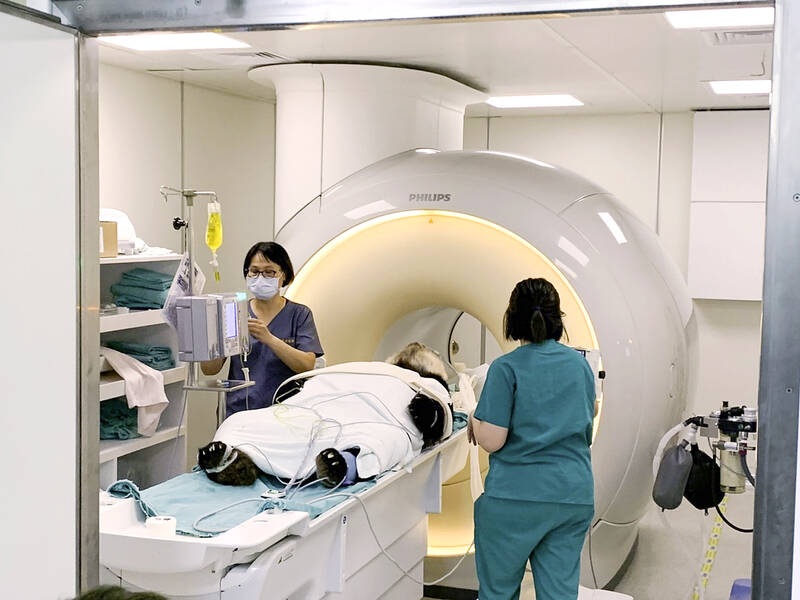 Giant panda Tuan Tuan undergoes an MRI in an undated photograph.
Photo courtesy of Taipei Zoo
"The left cerebral lobe and posterior lobe have local large-scale necrosis and surrounding edema, and the right cerebral lobe has local small-scale edema," Cheng said.
"We will wait for the results of a fluid analysis before deciding what direction to take with follow-up treatment," she said.
Given that Tuan Tuan is 18 years old, which is considered old for a panda, a brain condition like this is considered very serious, she said.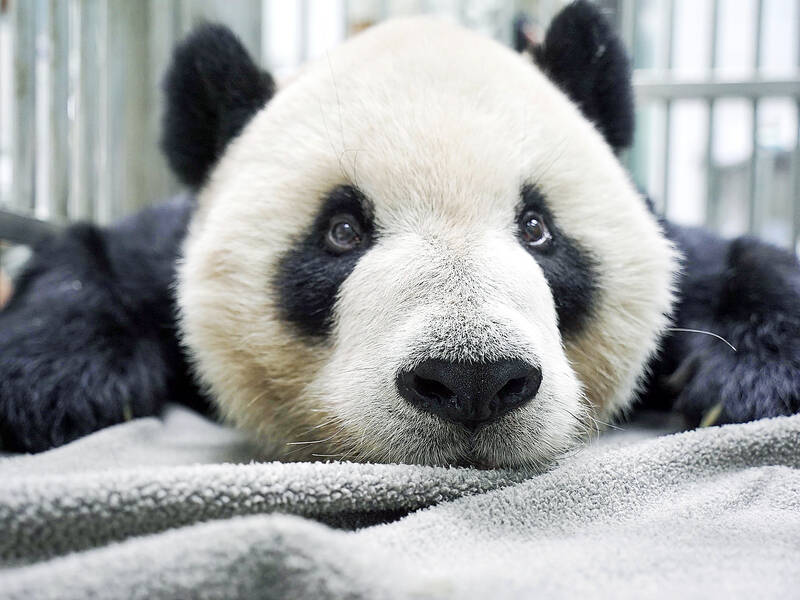 Giant panda Tuan Tuan awakens from anesthesia after undergoing a physical examination at the Taipei Zoo in an undated photograph.
Photo courtesy of Taipei Zoo
The seizures Tuan Tuan had were caused by inflammation and infection, so the vets had collected cerebrospinal fluid to determine what infections the panda had, she said.
Some pandas at Sichuan's Wolong Nature Reserve have also had seizures, but the causes were different in each case, she said.
Despite the severity of Tuan Tuan's condition, he has recovered about 90 percent of his appetite and daily activity level, zookeeper Chen Yu-yan (陳玉燕).
While Tuan Tuan continues to recover, the zoo would adjust the times when its three other pandas — Yuan Yuan (圓圓) and her two daughters, Yuan Aai (圓仔) and Yuan Bao (圓寶) — are on exhibit, she said.
Asked if Tuan Tuan might die from the disease, Chen said it was too early to say, but the zoo would have a better idea after test results come out.
Asked whether the zoo would also perform an MRI on Yuan Yuan as a precaution, Chen said that MRIs are not done routinely on pandas, but that the animals do undergo annual physical exams, which include an ultrasound, X-ray and blood work.
Comments will be moderated. Keep comments relevant to the article. Remarks containing abusive and obscene language, personal attacks of any kind or promotion will be removed and the user banned. Final decision will be at the discretion of the Taipei Times.