Migrant workers arrested after stop at betel nut store
Eight undocumented migrant workers were detained on Monday after being found crammed into a minivan — apparently on their way to a construction site in central Taiwan — which led to the arrest of another 26 undocumented workers from Thailand, Vietnam, Indonesia and the Philippines, an immigration official said yesterday.
The 34 migrant workers, 11 women and 23 men, were being held at a detention center managed by the National Immigration Agency (NIA) in Nantou County and face charges of working without legal status, said Tang Yu-tai (黨昱泰), deputy captain of the Taichung Brigade of the Central Taiwan Administration Corps.
They are awaiting processing for deportation, Tang said.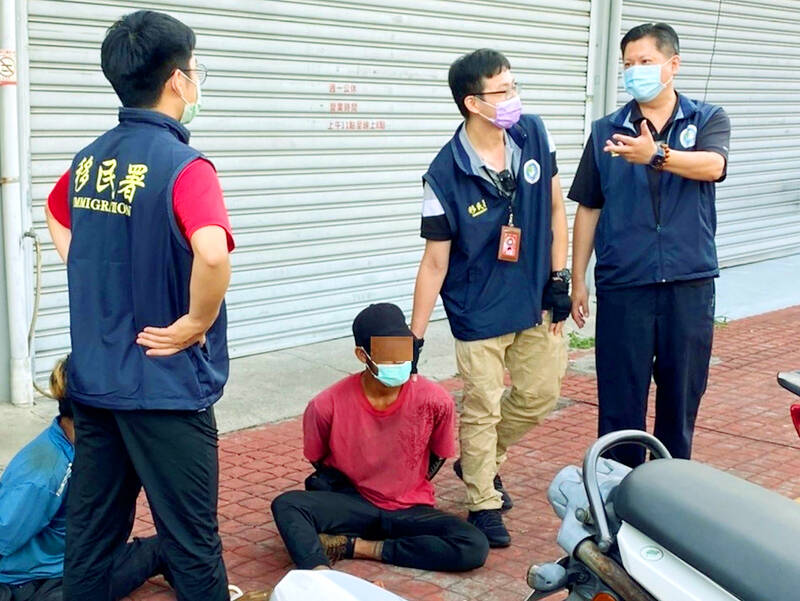 Immigration officials in Taichung on Monday stand next to detained people, whose faces have been obscured.
Photo: CNA
The minivan was intercepted at about 7am when it stopped near a roadside stall in Taichung's Dadu District (大肚) and two of the workers got out to buy betel nuts and bottled water, Tang said.
They spoke Hoklo (commonly known as Taiwanese) when they ordered, but not with a local accent, Tang said.
"Agency workers overheard them and became suspicious that the vehicle might be carrying undocumented migrant workers," he said.
The agents were on duty in the area searching for such workers, he said.
The agents intercepted the van and found eight allegedly undocumented workers in it, including two behind the last row of seats, Tang said, adding that they were apparently on the way to a construction site in Changhua County.
The agents questioned the apprehended workers, which led to 26 further arrests of migrant workers who had left their employer and were working odd jobs, mostly at construction sites, he said.
Immigration officials, police officers and Coast Guard Administration staff were involved in the raids on those sites, Tang said.
Of the 34 people arrested, 21 are from Vietnam, six from Indonesia, four from Thailand and three from the Philippines, the Central Taiwan Administration Corps said.
The NIA urged business owners not to employ migrant workers illegally, as they would face fines of NT$150,000 to NT$750,000 according to provisions of the Employment Service Act (就業服務法).
Comments will be moderated. Keep comments relevant to the article. Remarks containing abusive and obscene language, personal attacks of any kind or promotion will be removed and the user banned. Final decision will be at the discretion of the Taipei Times.