Ko Wen-je is a 'defeatist': Lin Fei-fan
Taipei Mayor Ko Wen-je (柯文哲) is pandering to Beijing and would like to see Taiwan capitulate in a potential war with China, Democratic Progressive Party (DPP) Deputy Secretary-General Lin Fei-fan (林飛帆) said yesterday.
Lin made the remarks in a Yahoo TV show hosted by political commentator Wang Shi-chi (王時齊).
Lin said Ko's views on defense show he is a "defeatist" and his advocacy for appeasement shows that he thinks Taiwan should surrender if war breaks out with China.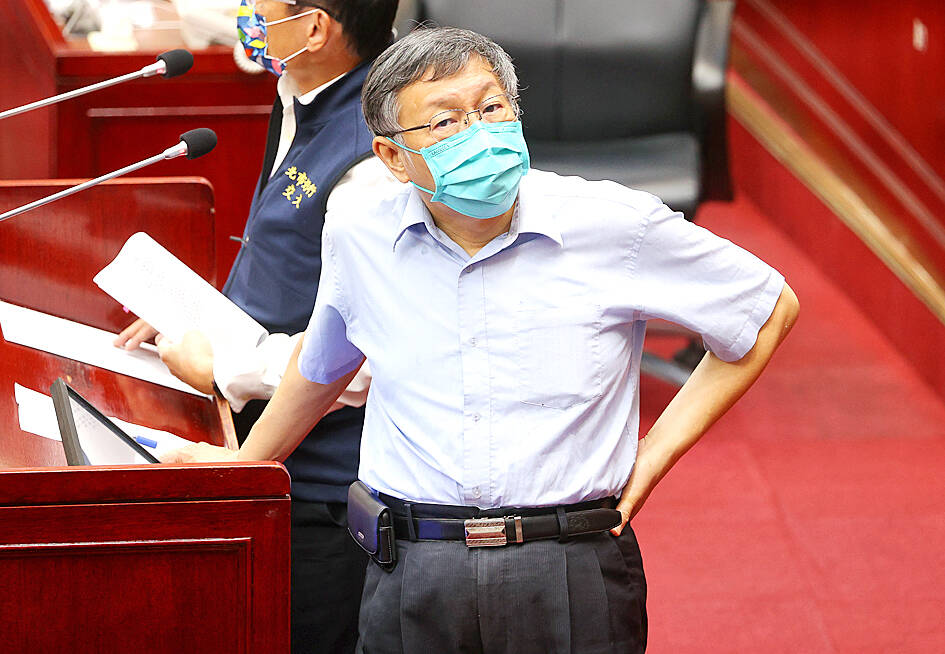 Taipei Mayor Ko Wen-je stands at the podium at Taipei City Hall during a question-and-answer session on Tuesday.
Photo: CNA
Wang said Ko's views were exemplified by him last week telling the Taipei City Council that the "goal is to safeguard Taiwan, but in doing so, there is no need to go against China. We do not have to link the two together."
"When we go against China, how can we safeguard Taiwan? That is the question mark for me," Ko told councilors in a question-and-answer session.
"Taiwanese should do things that enable people in China to like us. That is the highest goal. If they do not like us, then we will have trouble... The two sides [of the Taiwan Strait] should hold talks, it is better for happiness as members of one big family," Ko said.
Lin said Ko is trying to promote the idea that defending Taiwan against China is useless and Taiwanese should instead accept that they are members of the Chinese family.
Ko is also a proponent of the so-called "1992 consensus," Lin said.
The so-called "1992 consensus," a term former Mainland Affairs Council chairman Su Chi (蘇起) in 2006 admitted making up in 2000, refers to a tacit understanding between the Chinese Nationalist Party (KMT) and the Chinese government that both sides of the Strait acknowledge there is "one China," with each side having its own interpretation of what "China" means.
In Ko's version, that means calling for capitulation to China, Lin said.
"Taiwan belongs to the world, and we are among the world's democratic nations, willing to advance collaboration with the international community," Lin said.
DPP Lienchiang County commissioner candidate Lii Wen (李問) said that despite Lienchiang residents having a front-row view on Chinese live-fire drills last month, they were unimpressed.
"People have no fear, and the drills had little effect on their daily lives. Tourism and other sectors of the local economy are operating as normal," he said.
They are more concerned about China's "gray-zone" warfare, including Chinese boats dredging sand and illegally fishing near Matsu, he said.
There had been confrontations between Chinese boats and local fishers, he added.
This story has been amended since it was first published.
Comments will be moderated. Keep comments relevant to the article. Remarks containing abusive and obscene language, personal attacks of any kind or promotion will be removed and the user banned. Final decision will be at the discretion of the Taipei Times.