Hou urged to clarify role in Deng Nan-jung's death
'DANGWAI MARTYR': Hou You-yi, a police officer at the time, should not have forced his way into the office of the publisher, charged with sedition, Deng's daughter said
New Taipei City Mayor Hou You-yi (侯友宜) should clarify his role in a raid that preceded the death of Freedom Era Weekly magazine publisher Deng Nan-jung (鄭南榕) on April 7, 1989, civil groups and political figures said yesterday.
Hou was a police captain when Deng, facing sedition charges and immediate arrest, self-immolated and set fire to his office instead of appearing in court.
"It is scary to learn of the values Hou held at the time. He has benefited from the past authoritarian regime as a member of the establishment, working for the elites who ruled Taiwan under dictatorship... But now he tries to whitewash his responsibility for Deng's death," Nylon Deng Liberty Foundation director Luna Liu (劉璐娜) said.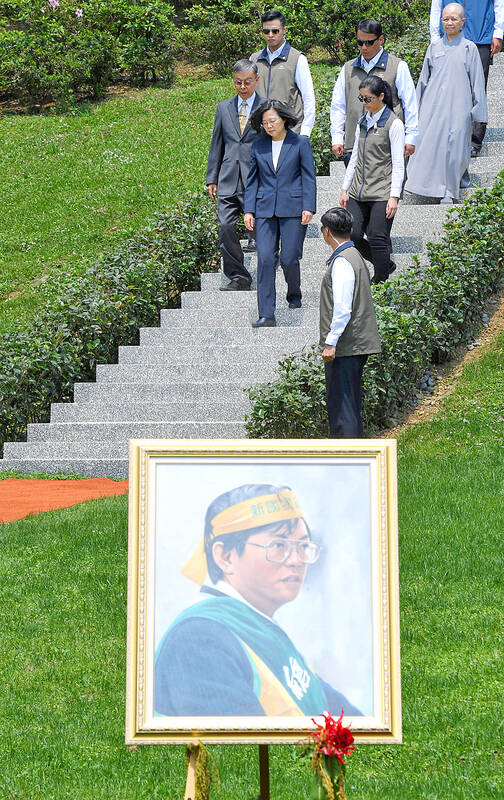 President Tsai Ing-wen, front on the stairs, attends a memorial service for Freedom Era Weekly magazine publisher Deng Nan-jung in New Taipei City on April 7, 2019, the 30th anniversary of Deng's death.
Photo: CNA
"Deng sacrificed his life to defend freedom of speech and the rights enshrined in the Constitution. Nowadays, all Taiwan, including members of the Chinese Nationalist Party (KMT) such as Hou, can enjoy these rights and liberties," Liu said.
"However, the KMT ignores Deng and his fellow political advocates who paved the way for democracy, who lost their lives in the struggle to free Taiwan from the KMT's tyranny," Liu added.
Democratic Progressive Party Legislator Lo Chih-cheng (羅致政) said: "Some deeds in history can be forgiven, but cannot be forgotten, especially the revision of history, which distorts the truth and deceives the public."
"It is regretful that Hou hides behind the cloak of the past KMT authoritarian regime, in which he had the role as an evil character, as a member of the malevolent state apparatus. He should reflect on the wrongdoing he was involved in, but decades later, he still does not face up to history," Lo said.
Commenting on rumor that Hou might run in the next presidential election, Lo said: "If he gets elected to become the nation's leader, then how much cover-up and distortion of history will we see? Hou's denial of wrongdoing is a tragedy, and a sore chapter for Taiwanese."
Hou, who is seeking re-election in the Nov. 26 local elections, was yesterday asked on the campaign trail about his role in the 1989 raid.
Hou, at the time a captain in the Taipei City Police Department's criminal investigation division, said he does not regret his actions.
The officers involved in the raid acted in accordance with the law, he said.
Police officers have the duty to uphold the justice system, regardless of which party is in power, Hou said.
Nicknamed Nylon Deng, the Freedom Era Weekly magazine publisher championed freedom of speech since founding the magazine in 1984.
As a prominent figure in the dangwai (黨外, "outside the party") movement, he in 1986 served seven months in prison on charges of organizing illegal street protests against the government.
Charged with sedition over the publication of a draft "Republic of Taiwan constitution" in 1988, he committed suicide, and is since seen by many as a martyr in fighting for democracy in Taiwan.
Following Hou's remarks, Deng's daughter, Deng Chu-mei (鄭竹梅), denounced Hou for not owing up to his role in the attempted arrest that preceded her father's suicide.
Ordering the arrest, Hou chose the most extreme option in prosecuting Deng Nan-jung, she said.
He and his fellow police officers could have waited in front of the magazine's office until Deng Nan-jung gave up or negotiated with him, but they tried to forcefully enter, she said.
Deng Chu-mei and associates of her father said Hou and the other officers used torches to break into the office through a locked door.
"As Deng Nan-jung's daughter, I cannot accept that Hou said he would order the same actions again. His word caused pain for the whole Deng family," she said.
"Hou is a mayor seeking re-election and potentially running for president. We ask politicians to be honest and own up to their past deeds," she said.
Hou said: "I respect that there are many different views. My focus is to do a good job to serve my constituents."
Comments will be moderated. Keep comments relevant to the article. Remarks containing abusive and obscene language, personal attacks of any kind or promotion will be removed and the user banned. Final decision will be at the discretion of the Taipei Times.