Drone makers eye combat models
Local drone producers are seeking to upgrade uncrewed aerial vehicles in Taiwan's arsenal to bolster the nation's defenses.
JC Tech, based in Taipei's Neihu Science Park (內湖科技園區), started developing drones in 2018 in cooperation with two other companies to help the coast guard build a fleet of single-rotor drones.
JC Tech president Robert Cheng (鄭志誠) said his company has built and tested prototypes of a suicide drone, named the Flyingfish, that was inspired by the US-made Switchblade drones used in Ukraine.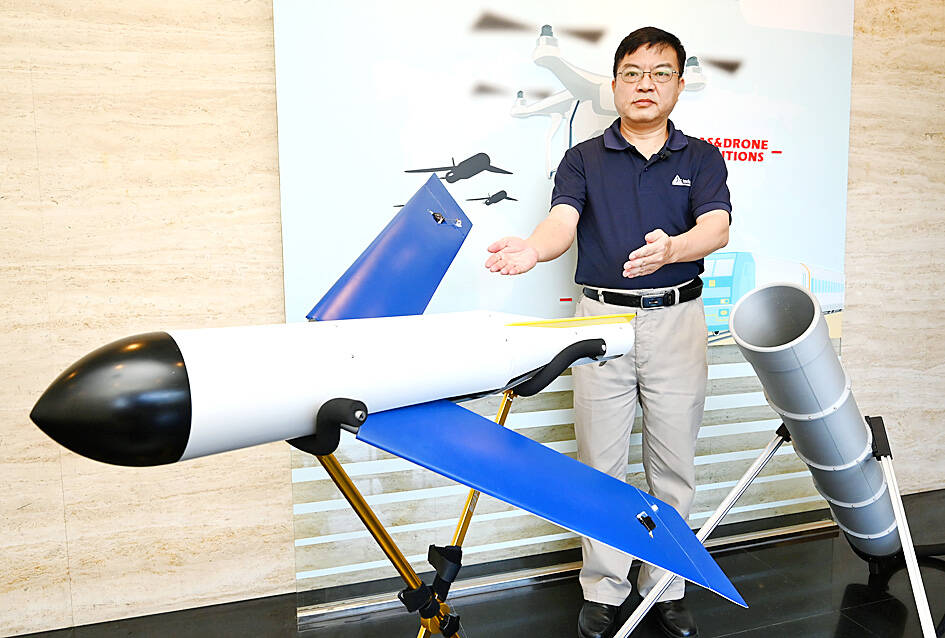 JC Tech president Robert Cheng poses next to a model of the company's Flyingfish drone in Taipei on July 29.
Photo: Tien Yu-hua, Taipei Times
JC Tech expects to sign the first contract for the drones with a Southeast Asian country next month and hopes to also work with Taiwan's military.
The drone comes in three sizes, with the medium-sized Flyingfish 200 boasting a payload of 500g, roughly equivalent to 10 grenades, he said.
Made of a plastic-like material, the Flyingfish 200 is 1.15m long, but weighs only 2.2kg fully loaded, making it an ideal weapon for infantry to carry into battle, Cheng said.
It can target tanks, ships or personnel within a 10km range with the help of built-in GPS, artificial intelligence and a camera, he said.
Once it has identified its target, it swoops down and crashes into it, detonating its payload, he added.
Costing less than US$3,000, the Flyingfish 200 is much cheaper than cruise missiles or other combat drones, making it cost-effective to deploy in large numbers in urban or naval warfare, Cheng said.
"When the enemy approaches [Taiwan's] coastal waters, the Flyingfish drones will prove to be a formidable weapon for asymmetric warfare, because they are so easy to use and can be deployed in great numbers," he said.
Geosat Aerospace & Technology Inc, which began developing drones in 2008, has been collaborating with the Chungshan Institute of Science and Technology on the Albatross II drone.
The Albatross II is an updated version of the first-generation Albatross being used by Taiwan's military.
An Albatross drone filmed a standoff between Taiwan's guided-missile destroyer Ma Kong and the Chinese frigate Ma'anshan during China's live-fire military exercises around Taiwan early last month.
With drone technology advancing rapidly, Taiwan's military felt the need to upgrade its Albatross drones, a task it entrusted to the institute, Geosat CEO Lo Cheng-fang (羅正方) said.
As drones could have a more prominent role in military standoffs between Taiwan and China, the nation should adopt a "porcupine" strategy by complementing its missile defense network with combat drones, Lo said.
The Albatross II would fit the bill, he added.
It has surveillance and combat functions, improved flight endurance, better communications and a bigger payload, Lo said.
It has a range of 250km, compared with its predecessor's 150km, he said.
The Albatross II has a longer communication range and can transmit data via microwave transmission or satellites, which would be useful if China were to blockade Taiwan, because it could transmit real-time data on enemy movements, Lo said.
Another major improvement is that the new drone has a synthetic aperture radar, which enables it to conduct surveillance over a wider range with less interference from limited light or poor weather conditions, he said.
Lo said the Albatross II is compatible with locally developed Tien Chien II (Sky Sword) air-to-air missiles and 2.75-inch rockets, and could outperform Turkey's Bayraktar TB2 drones, which saw widespread use by Ukrainian forces during Russia's invasion of the eastern European country.
The Albatross II has a wider wingspan, a higher-output engine and higher-torque propellers than the Turkish drone, he said.
Lo did not divulge when the Albatross II drones might enter service, but said that with tests proceeding on schedule, they could enter mass production next year.
Comments will be moderated. Keep comments relevant to the article. Remarks containing abusive and obscene language, personal attacks of any kind or promotion will be removed and the user banned. Final decision will be at the discretion of the Taipei Times.