Support for death penalty high: poll
DETERRENT: About 88 percent of respondents said capital punishment helps prevent serious crimes, while nearly 89 percent were dissatisfied with the pace of executions
A majority of Taiwanese oppose the abolition of the death penalty, the results of a survey released yesterday by the Foundation for the People showed.
The poll found that 86.9 percent of respondents opposed the abolition of capital punishment in Taiwan, while 12.4 percent were in favor.
While Taiwan has not abolished capital punishment, 79.9 percent of respondents believed the administration of President Tsai Ing-wen (蔡英文) has essentially ceased the practice.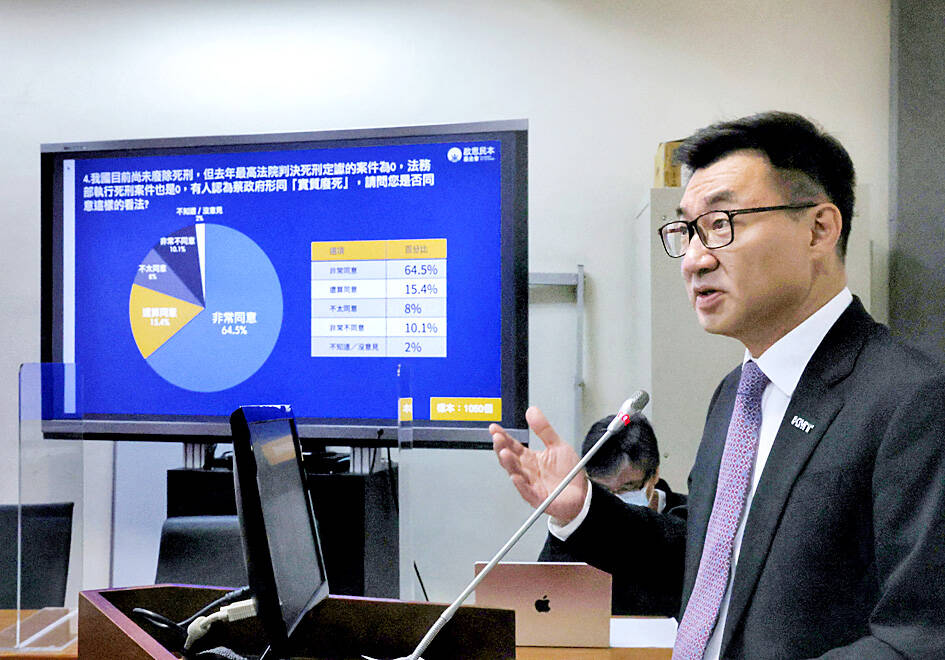 Chinese Nationalist Party (KMT) Legislator Johnny Chiang, who is chairman of the Foundation for the People, speaks at a news conference in Taipei yesterday.
Photo: CNA
The survey found that 88.8 percent were dissatisfied that the Tsai administration carried out only two executions over the past six years.
According to the poll, 90.3 percent believe that the nation's 38 death-row inmates should be executed soon.
Only 10.4 percent of respondents agreed with Tsai's statement that "abolition of the death penalty is a universal goal."
Asked whether they think capital punishment helps prevent serious crimes, 88.1 percent of respondents said yes.
The poll also showed that 73.6 percent are dissatisfied with public safety in Taiwan, while 25.5 percent are satisfied.
Chinese Nationalist Party (KMT) Legislator Johnny Chiang (江啟臣), chairman of the foundation, said that a cross-analysis of survey results showed that opposition to the abolition of the death penalty crossed age groups and party affiliations.
The poll, conducted on Wednesday and Thursday by sending out questionnaires on Facebook, collected 1,050 valid responses from people aged 18 or older. It has a confidence level of 95 percent and a margin of error of 3.02 percentage points.
The poll was conducted shortly after the killing of two police officers in Tainan last month.
The Tainan District Prosecutors' Office on Wednesday said prosecutors are seeking the death penalty for the 46-year-old suspect, Lin Hsin-wu (林信吾), who has been charged with aggregate larceny, murder, robbery and illegal use of firearms and a knife.
Prosecutors said Lin did not show sympathy for the officers, 36-year-old Tu Ming-cheng (?明誠) and 27-year-old Tsao Rui-jie (曹瑞傑), as he stole a handgun and two magazines containing 18 bullets from one of them and abandoned the two injured officers as they lay dying on the ground on Aug. 23.
What Lin committed was a felony, investigators said.
Minister of Justice Tsai Ching- hsiang (蔡清祥) has voiced support for prosecutors seeking the death penalty for Lin.
During interrogation, Lin was aware that he had killed two police officers, and expressed hope that the trial would be concluded quickly and his sentence would be handed down as soon as possible, prosecutors' office spokesman Hsu Chia-lung (許嘉龍) said.
Comments will be moderated. Keep comments relevant to the article. Remarks containing abusive and obscene language, personal attacks of any kind or promotion will be removed and the user banned. Final decision will be at the discretion of the Taipei Times.