Viral infections expected to rise after long weekend
CHILDREN VULNERABLE: Many respiratory illnesses with similar symptoms are attacking at the same time, and hospitals have limited bed capacity, experts said
Travel during the Mid-Autumn Festival three-day weekend is expected to lead to a rise in the number of infectious respiratory diseases, physicians said.
Taichung Medical Clinics Association president and pediatrician Tseng Chung-fang (曾崇芳) said that cases of upper respiratory diseases — not just COVID-19 — usually increase by about 20 to 30 percent after the Mid-Autumn Festival holiday.
Based on her observations, people with "long COVID" symptoms, including coughing, sore throat and chest tightness, also increased by 20 to 30 percent in the past two months, Tseng said.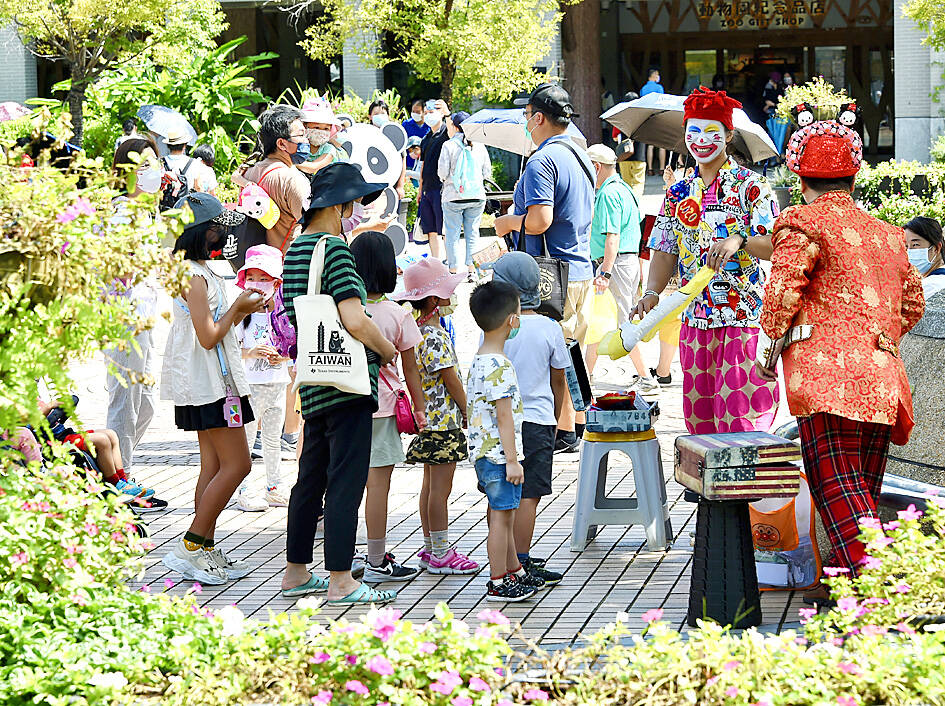 People visit the Taipei Zoo on Saturday, the second day of the Mid-Autumn Festival long weekend.
Photo: Tu Chien-jung, Taipei Times
Respiratory infections usually increase as the weather gets colder, and an increasing number of children with such illnesses have been admitted to hospital this month, National Taiwan University Children's Hospital superintendent Huang Li-min (黃立民) said on Saturday.
Many children being treated for respiratory symptoms at outpatient clinics or emergency rooms did not have COVID-19, but were diagnosed with the respiratory syncytial virus or enteroviruses, he said.
"The troublesome part is that the symptoms of these diseases are very similar, so patients must receive rapid tests at the hospital, or else it is nearly impossible to tell them apart," Huang said.
Adults are capable of reporting their symptoms and performing a rapid test, but children usually do not understand what they are experiencing and cannot express themselves well, which leads to more hospital admissions, he said.
When hospitals increase the number of pediatric facilities designated for COVID-19 patients, it leaves fewer beds for patients with other diseases, he said.
"Many infectious diseases are attacking at the same time, which is really troubling," he said, adding that the pediatric division is under significant pressure.
Since a significant local COVID-19 outbreak began in April, about 20 percent of children and adolescents have contracted the disease, and about 10 to 30 percent of children are at risk of experiencing post-COVID-19 syndrome, or "long COVID," which could affect their studies and daily life, China Medical University Children's Hospital superintendent Wang Jiu-yao (王志堯) said.
Wang cited data from the hospital's post-COVID outpatient clinic that showed that the most common post-COVID-19 syndrome symptoms in children and adolescents were coughing (43.5 percent), sore throat and other throat disorders (35.1 percent), ear pain and other ear problems (34.9 percent), weight loss or weight gain (33.1 percent) and weakness (31.8 percent).
Children who have post-COVID-19 syndrome might also be at risk of experiencing multisystem inflammatory syndrome in children (MIS-C), he said, adding that lack of motivation (25.3 percent), anxiety (22.7 percent) or loss of interest in life (11.7 percent) are also reported.
Parents of children who have recovered from an acute COVID-19 infection should take action if a child shows signs of physical discomfort, decreased activity level, changes in diet or sleeping habits, poor learning or interpersonal relationship troubles, he said, adding that parents should seek medical attention in such situations.
The Central Epidemic Command Center has said that the number of COVID-19 cases involving the BA.5 subvariant of the Omicron variant of SARS-CoV-2 could peak near the end of this month.
Comments will be moderated. Keep comments relevant to the article. Remarks containing abusive and obscene language, personal attacks of any kind or promotion will be removed and the user banned. Final decision will be at the discretion of the Taipei Times.