New technology shown to reduce fish farm costs, labor, Tainan officials say
The Tainan City Government on Thursday presented the results of using smart technologies to reduce costs and increase profits of aquaculture fishery in Tainan's Cigu District (七股).
Tainan has a large aquaculture fishery industry with nearly 14,000 hectares of fish farms, the biggest in the nation, Tainan Mayor Huang Wei-che (黃偉哲) said.
To reduce the demand for labor, minimize losses due to climate change and improve the industry's productivity, the government held the event to encourage fishermen to adopt the technologies.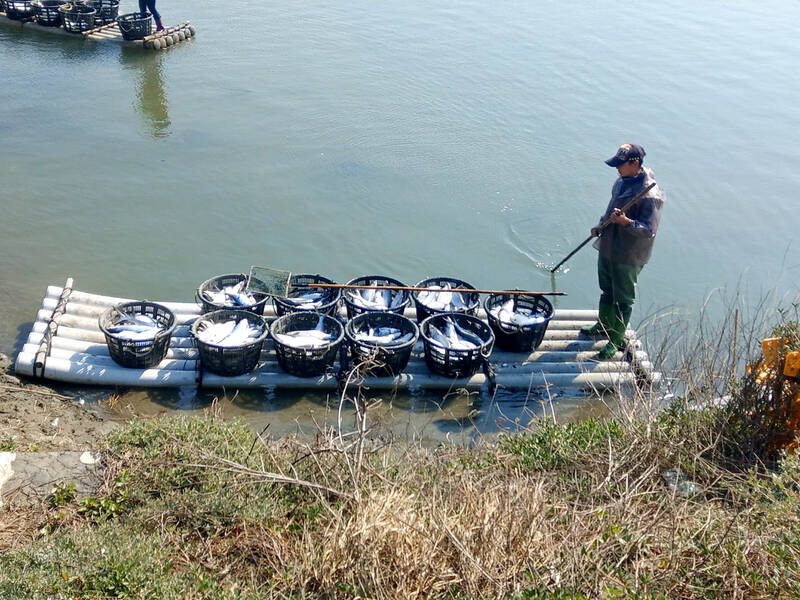 A fisher in Tainan steers a raft carrying a catch of milkfish on Jan. 11 last year.
Photo courtesy of the Tainan City Government via CNA
The Ministry of Economic Affairs' Industrial Development Bureau cooperated with Quadlink Technology Inc (寬緯公司) in this year's Smart City Taiwan project, introducing smart technologies to the aquaculture fishery industry.
They installed smart distribution boxes, water quality monitoring systems, fishery aerators and a new type of cold chain system in fish farms in Tainan's Cigu and Syuejia District (學甲).
Traditionally, fish farmers must inspect farms frequently to adjust equipment and distribute feed when needed, which is labor intensive and involves possible physical risk, Huang said.
The technology can reduce labor requirements and allow remote monitoring of farms, he said.
Smart distribution boxes can control the timing of feeding and other activities, and include warning systems to call for emergency response, he said.
The technology can reduce costs and increase breeding rates, he added.
Fish farm operator Lo Yung-chung (羅泳中) at the presentation shared his experience of using smart aquaculture equipment and fishery aerators, demonstrating proper maintenance and data collection.
New fishery aerators create water currents to oxygenate the water, a process that can be five times more effective than other methods, and use 80 percent less energy than traditional aerators, he said.
Traditional aerators are responsible for up to 60 percent of energy used in fish farms, Tainan Bureau of Agriculture Deputy Director-General Lee Chien-yu (李建裕) said.
The aquaculture sustainability project is a joint effort between the city and central government, the bureau said in a statement.
With additional help from aquaculture researchers, the project hopes to transform the industry and attract more young people to return to their hometowns to work in fish farms, it said.
Comments will be moderated. Keep comments relevant to the article. Remarks containing abusive and obscene language, personal attacks of any kind or promotion will be removed and the user banned. Final decision will be at the discretion of the Taipei Times.