NCC backs news outlets sharing platforms' profits
The National Communications Commission (NCC) yesterday said news media outlets should receive their fair share of profits from digital platforms for letting them publish news content to generate advertisement revenue.
The remarks came as a group of legal and media experts are today to present a draft "news media and digital platforms mandatory bargaining act" in an online news conference.
"There should be reasonable distribution of profits between news media outlets and digital giants for news content published on digital platforms. We have seen that the EU's copyright laws have required online platform operators to obtain authorization before they can publish content produced by news media outlets," commission Vice Chairman and spokesperson Wong Po-tsung (翁柏宗) said.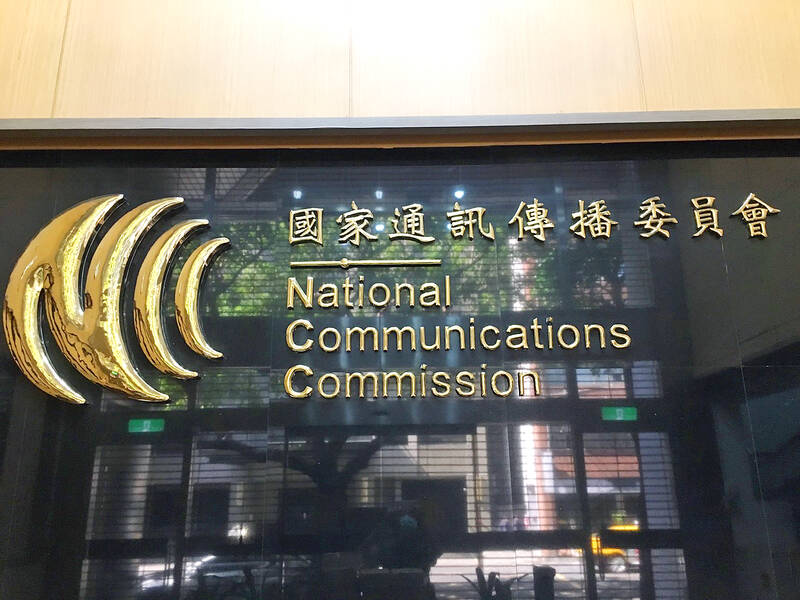 The National Communications Commission's logo is pictured at its building in Taipei in an undated photograph.
Photo: Yang Mien-chieh, Taipei Times
"We welcome the draft act proposed by the private sector, as the content produced by news media should have value," Wong said.
The Executive Yuan would hold an interdepartmental meeting to determine which government agency should be in charge of handling relevant issues, Wong said.
National Chengchi University distinguished law professor Richard Wang (王立達) drafted the bill after consulting Australia's News Media and Digital Platform Mandatory Bargaining Code, and the journalism competition and preservation draft act in the US.
In other news, the commission is to hold two administrative hearings to review applications for mergers between Taiwan Mobile and Taiwan Star, and Far EasTone Telecommunications (FET) and Asia-Pacific Telecom (APT), it said.
The applications were submitted to the commission on Feb. 10 and March 23 respectively. Taiwan Mobile and FET are to be the surviving entities following the mergers.
The hearings would be held late this month or early next month, the commission said.
"We have consulted several experts over the two cases. Some were concerned how telecoms would raise their 5G service coverage rates in rural areas after the mergers," Wong said.
"Others told us that although the mergers will reduce the number of telecoms in Taiwan from five to three, telecoms now face competition from Line, Facebook and other platforms that also offer voice communication services," he said.
"As telecoms are already seeing increasingly shrinking voice communication service revenue, experts said we should not only focus on how the mergers will affect telecoms," he added.
Taiwan Mobile has said that, following a merger, it would continue to honor service contracts subscribers had signed with Taiwan Star, while FET said that it aims to eliminate any effects of its merger with APT on consumers.
However, both telecoms need to more clearly explain during the hearings their measures to protect consumers, Wong said.
As both mergers could contravene the Regulations Governing the Use of Radio Frequencies (無線電頻率使用管理辦法) by allowing Taiwan Mobile and FET to have more than one-third of the bandwidth allotted to all carriers through public tender, Wong said the commission would consult the newly established Ministry of Digital Development, which is in charge of enforcing the regulations, he said.
Commission data showed that mobile voice communication services revenue had fallen from NT$77 billion (US$2.53 billion at the current exchange rate) in 2013 to about NT$50 billion by 2020.
The aggregate output value of the mobile telecommunication services market has dropped from NT$230 billion at one point to NT$150 billion by 2020, the data showed.
Comments will be moderated. Keep comments relevant to the article. Remarks containing abusive and obscene language, personal attacks of any kind or promotion will be removed and the user banned. Final decision will be at the discretion of the Taipei Times.