S2O organizer, officials to negotiate ticket refunds
COMPLAINTS: Democratic Progressive Party Legislator Mark Ho called Spunite's refusal to offer refunds for canceled performances a 'new type of concert scam'
The organizer of the S2O Taiwan Songkran Music Festival and government officials would meet on Monday to negotiate a solution for refunds after 11 international headliners were dropped from the event at the last minute due to insufficient COVID-19 planning, Consumer ombudsman Chen Chin-yi (陳瑾儀) said yesterday.
Local governments could fine the organizer, Spunite, if the parties fail to reach an agreement, she added.
The two-day festival over the weekend was to feature international performers, including CL of the South Korean girl band 2NE1, Dutch DJs R3hab and Yellow Claw, and US musician KSHMR.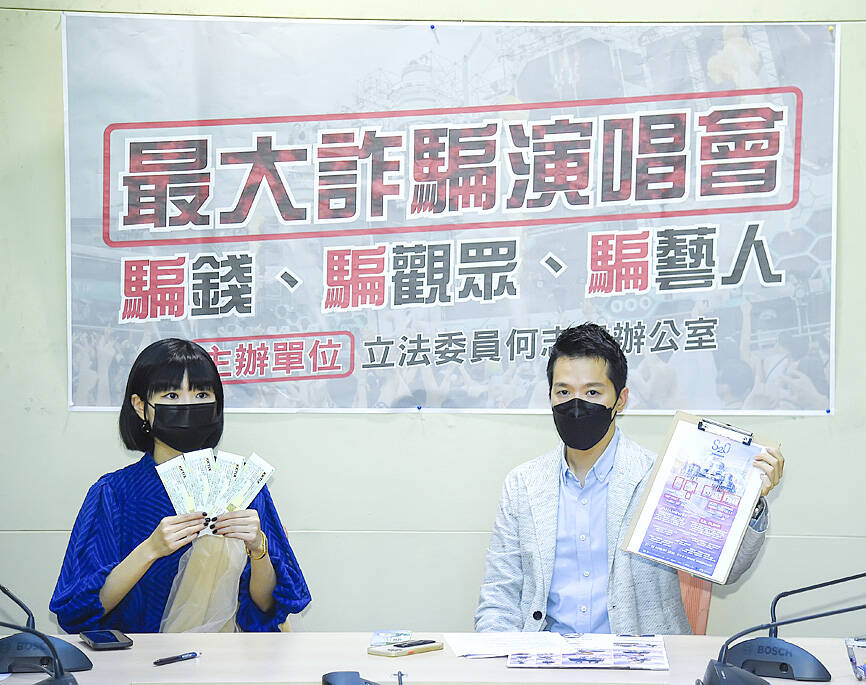 Democratic Progressive Party Legislator Mark Ho, right, and concertgoer identified as Heidi demand ticket refunds the S2O Taiwan Songkran Music Festival at a news conference at the Legislative Yuan in Taipei yesterday.
Photo: Chen Chih-chu, Taipei Times
However, Spunite on Friday afternoon announced that the foreign performers would not be able to attend, as the Ministry of Culture had not approved the company's application for a quarantine exemption, and COVID-19 pandemic preparations for foreign performers and staff.
The ministry said Spunite submitted an incomplete plan on Wednesday, despite numerous reminders, leaving no time to make changes and send the plan to the Central Epidemic Command Center for approval.
Spunite has refused to offer refunds to concertgoers, citing its contractual "right to change venue or lineup," instead allowing attendees to bring a friend for free.
The incident has led to thousands of complaints, including from Democratic Progressive Party Legislator Mark Ho (何志偉), who held a news conference at the legislature yesterday demanding that Spunite offer refunds to the more than 20,000 people who bought tickets.
Decrying fraud as a "national shame," Ho called the incident a "new type of concert scam," in which the organizer sold tickets with the promise of featuring star performers who never showed up.
The organizer not only refused to offer refunds, but also tried to "trick" people into believing that the ministry was at fault, he said.
A concertgoer identified as Heidi told reporters that she bought a ticket on Aug. 3 for NT$3,400, only to discover on Friday that CL, the artist she bought the ticket to see, was not attending.
She called Spunite many times seeking a full refund, but never received a response, she said.
According to ministry regulations governing concert contracts, ticket holders have the right to at least a partial refund if a change is announced before the event and a full refund if it is not announced, Chen said.
Taipei consumer ombudsman Kung Chien-ya (龔千雅) on Saturday said that following negotiations, Spunite agreed to remove text from its Web site and Facebook saying that no refunds would be given.
She also advised ticket holders who did not attend the event to keep their tickets if they wish to seek refunds.
The organizer has not said whether it would offer compensation to people who did attend, Kung added.
Additional reporting by CNA
Comments will be moderated. Keep comments relevant to the article. Remarks containing abusive and obscene language, personal attacks of any kind or promotion will be removed and the user banned. Final decision will be at the discretion of the Taipei Times.