Lawmaker urges new ship class amid China threat
The nation should build a class of second-line ships to offset the numerical advantage of Chinese frigates, Democratic Progressive Party Legislator Wang Ting-yu (王定宇) said, referring to disputes that stalled the navy's next-generation guided missile frigate program.
China continues to probe Taiwan's sovereign waters, an effort spearheaded by its Type 054 frigates and Type 056 corvettes, he said, adding that the navy faces steep challenges in countering Chinese incursions due to its aging fleet, with most ship types designed during the Cold War.
The Chi Yang-class frigates — formerly operated by the US as Knox-class frigates — are powered by steam turbines that are inferior in power output and safety to the gas turbines modern warships use, he said.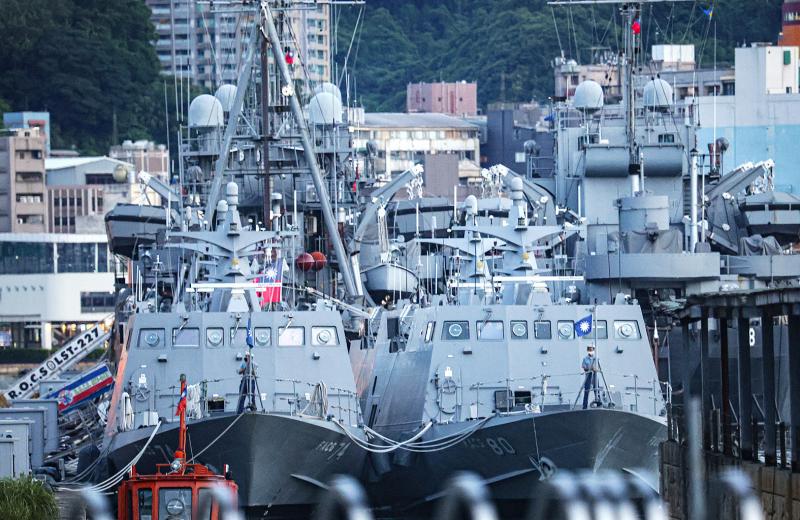 Kuang Hua VI-class missile boats are moored at the Port of Keelung on Aug. 6.
Photo: CNA
Deploying the navy's biggest warships after Type 056 corvettes to counter the incursions is not a worthwhile effort, he said.
However, Taiwan's two Tuo Chiang-class corvettes, which have less than 700 tonnes of displacement, are too small for the job, despite their firepower, he said.
If the navy is resolved to carry on with the second-generation frigate program, a next-generation "second-rate" ship class should be created to give the fleet more bulk and perform reconnaissance and patrol missions, he said.
The proposed secondary ship type would be a replacement for the Chi Yang class, which is long overdue, he said.
Last year, the navy said its next-generation guided missile frigate program — which has a budget of NT$24.5 billion (US$816.1 million) — might not be finished by 2026 due to technical challenges.
While the frigates were intended to have advanced reconnaissance and defense capabilities, the navy and the Chungshan Institute of Science and Technology could not agree on the ships' displacement or internal layout, the navy said.
As the program might have to be redesigned, delays to the program are likely, the navy said.
A source said on condition of anonymity that navy top brass are considering the introduction of a secondary combat ship class with a displacement of about 2,000 tonnes as a temporary measure to increase the fleet's combat power.
Comments will be moderated. Keep comments relevant to the article. Remarks containing abusive and obscene language, personal attacks of any kind or promotion will be removed and the user banned. Final decision will be at the discretion of the Taipei Times.