Feature: NSPO offers customized training with 'space academy'
As many Taiwanese electronics firms are craving for business opportunities heralded by low Earth orbit (LEO) communications satellites, the National Space Organization (NSPO) is launching a "space academy" to offer them customized training sessions.
The close relationship between the NSPO and local industries was evident during the agency's 30th anniversary celebration on Oct. 20, which was attended by several business leaders, including Quanta Computer founder and chairman Barry Lam (林百里), AU Optronics Corp chairman Paul Peng (彭双浪), and executives from Hon Hai Precision Industry Co, Wistron Corp and Pegatron Corp.
Shortly after taking office on Aug. 2, NSPO Director-General Wu Jong-shinn (吳宗信) talked about his plan to set up a "space academy" for the agency.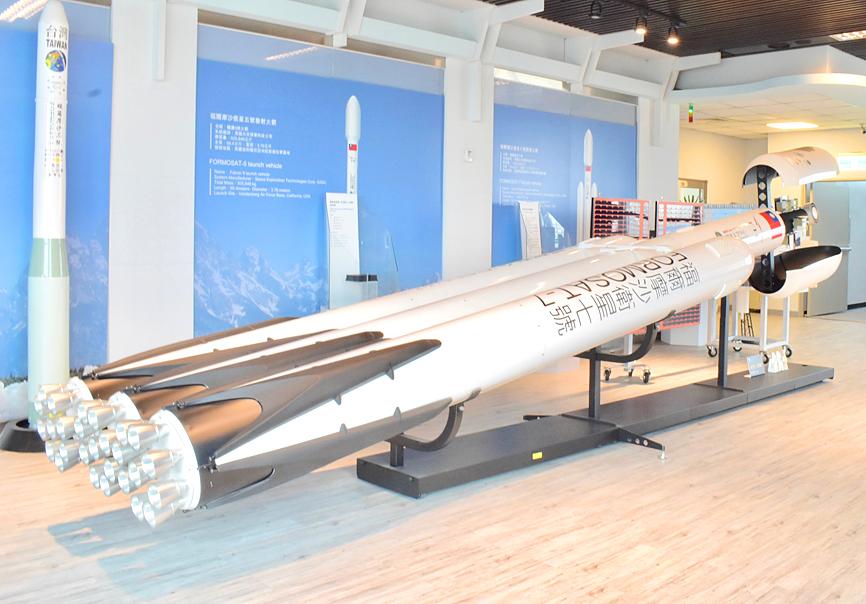 A model Falcon Heavy rocket that launched the Formosat-7/COSMIC-2 constellation in 2019 is pictured at the National Space Organization's headquarters at the Hsinchu Science Park on Nov. 4.
Photo: Lin Chia-nan, Taipei Times
The academy would be "a virtual institute responsible for space technology-related education for universities and industrial companies," but its functions would not be limited to that, he said.
Seeing the thriving opportunities offered by LEO communications satellites, many local businesses have been urging the agency to share its know-how, NSPO Deputy Director-General Yu Shiann-jeng (余憲政) said in an interview on Nov. 4.
The NSPO's partnerships with local companies were mostly conducted on a case-by-case basis, but the space academy's aim is to facilitate talent cultivation by fortifying ties with industry and academia, he said.
"Those who can make computers are not necessarily able to make space-grade computers," so they need experts that would introduce them to the space environment, Yu said.
Several local firms have also expressed an interest in making satellites, and the NSPO has suggested they start from making cubesats, he said.
Cubesats have lower costs and technical barriers, he said, adding that they have a shorter life cycle and are suitable for testing newly developed components.
The space academy is offering its first session on Thursday next week, with two days of training on space component verification tests, followed by a session on LEO satellite communications next month, the organization's Web site shows.
In addition to NSPO members, lecturers from other agencies, such as the Industrial Technology Research Institute, the Institute for Information Industry and the Metal Industries Research and Development Center, are participating in the training sessions.
More sessions are to be launched next year, including those related to system engineering, satellite component manufacturing and testing, Yu said, adding that some courses would involve practice training and tests.
Two NSPO members are recognized by NASA as class B instructors in electronic component welding and satellite harness making, so their trainees can receive certificates recognized by the US space agency, he added.
Courses related to space radiation would be held at other places, such as Chang Gung Memorial Hospital, which is part of an NSPO-led space radiation testing alliance formed in July last year.
The space academy also aims to integrate existing education at universities, Yu said.
Since 2019, the NSPO has been working with the University System of Taiwan to hold a space technology and engineering program, which involves several departments of National Tsing Hua University, National Yang Ming Chiao Tung University (NYCU) and National Central University, he said.
As one of NYCU's main campuses is adjacent to NSPO's headquarters at the Hsinchu Science Park, Wu is working to promote the establishment of a new department on space system engineering at NYCU, but the plan needs the approval of the Ministry of Education, Yu said.
A space-tech "Silicon Valley" is likely to take shape in this region, pooling the talent and capabilities of the universities, the NSPO, businesses at the science park, as well as the radiation testing alliance's members in Hsinchu and Taoyuan, he said.
The NSPO's facilities, in addition to testing the components of national space programs, also support the needs of local companies to test components when there is spare time, he said.
To accommodate its increasing tasks and the industry's growing needs, the NSPO is mulling expanding its facilities, Yu said.
The organization's offices are located on the eighth to 10th floors of a building at the science park, and it has only one independent three-floor building for satellite integration and testing.
Over the past few years, the NSPO and its supervisor, the Ministry of Science and Technology, have been seeking new space to build a new headquarters that can better reflect its status, he said, adding they hope to create a cluster of space-related businesses.
Although the NSPO hopes to stay in Hsinchu, the science park is already fully occupied, so it would take them more time to seek space for its new headquarters, Yu said.
Comments will be moderated. Keep comments relevant to the article. Remarks containing abusive and obscene language, personal attacks of any kind or promotion will be removed and the user banned. Final decision will be at the discretion of the Taipei Times.