Virus Outbreak: Youth rights groups call on officials to boost labor safety
Youth rights advocates yesterday called on the central government to offer better labor protection to workers who are recent graduates or still in school, saying that they should not be forgotten as International Workers' Day is celebrated today.
A survey of 727 workers aged 24 and younger, conducted from Thursday last week to Tuesday, was released yesterday by the Taiwan Alliance for Advancement of Youth Rights and Welfare.
The survey found that 36 percent of respondents did not have labor insurance, while 23 percent said that they did not know whether they had it.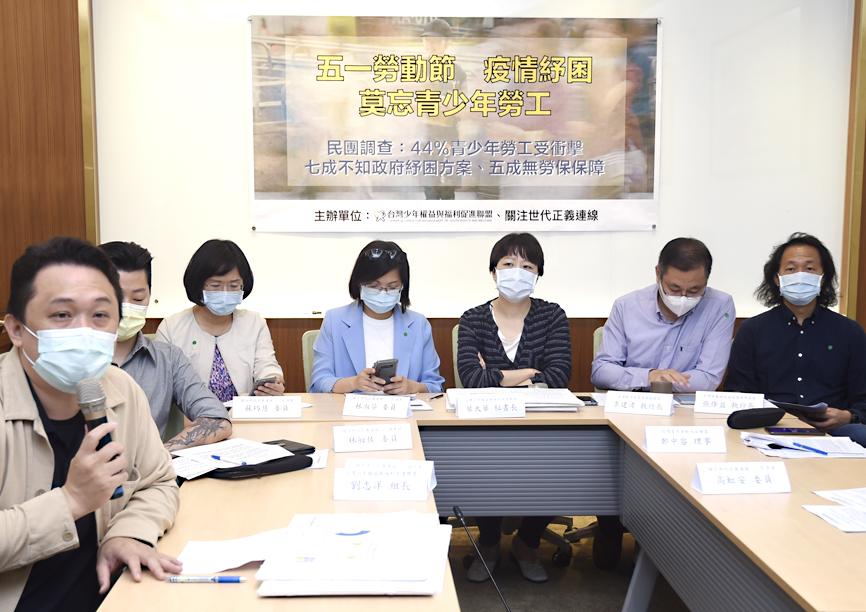 Youth rights advocates yesterday hold a news conference in Taipei to present the results of a survey by the Taiwan Alliance for Advancement of Youth Rights and Welfare.
Photo: Chien Jung-fong, Taipei Times
While 32 percent said that the COVID-19 pandemic has affected their job and 56 percent said that it has not, 12 percent said: "Not yet, but my company has plans" to reduce working hours or pay, the results showed.
Sixty-nine percent of respondents said that they did not know what government relief measures are in place for workers aged 24 and younger.
Twenty percent of the respondents were aged 15 or 16, 55 percent were aged 17 or 18, 12 percent were aged 19 or 20, and 13 percent were aged 21 to 24.
The Ministry of Education and Ministry of Labor should more broadly communicate their respective relief plans, the alliance said, drawing on the survey results.
Most of the relief measures provided by the Ministry of Labor require applicants to have labor insurance, but the government should also consider young workers who are not enrolled in the government's labor insurance program, alliance general secretary Yeh Ta-hua (葉大華) said.
Alliance representative Liu Chih-yang (劉志洋) stressed the importance of the ministries regularly surveying the labor conditions of young workers across the nation, saying that understanding those conditions is crucial to policymaking and the allocation of resources.
Democratic Progressive Party Legislator Su Chiao-hui (蘇巧慧), who attended the alliance's news conference in Taipei, said that most young people work in the service sector, which has been the sector most affected by the pandemic.
As graduation season approaches, the Ministry of Labor is working on a youth employment plan, which proposes that employers receive subsidies for hiring new graduates, she said.
Independent Legislator Freddy Lim (林昶佐) urged the government to better educate young people about their labor rights, saying that part-time jobs, which many young people take on, are different than full-time jobs.
Without a comprehensive legal framework to protect the labor rights of part-time workers, when discussions of relief proposals take place, many issues arise, such as what constitutes a reduction in working hours for part-time workers, he said.
Comments will be moderated. Keep comments relevant to the article. Remarks containing abusive and obscene language, personal attacks of any kind or promotion will be removed and the user banned. Final decision will be at the discretion of the Taipei Times.