False information on the rise in Taiwan: academic
False information in Taiwan spread by foreign governments has increased from 2011, Sweden-based academic Staffan Lindberg said in Taipei yesterday, adding that it is important for media to fact check stories to counter the trend.
A political science professor at the University of Gothenburg, Sweden, Lindberg was invited by the Ministry of Foreign Affairs to talk about misinformation in Taiwan based on exerience as director of global research project Varieties of Democracy (V-Dem): Global Standards, Local Knowledge.
The project involves nearly 3,000 experts across 180 countries. Its headquarters are at the university's V-Dem Institute.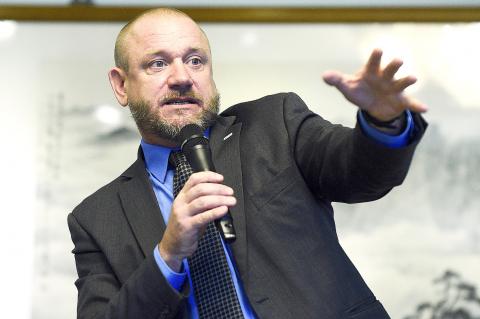 Staffan Lindbergh, a political science professor at the University of Gothenburg, Sweden, speaks at a forum in Taipei yesterday addressing misinformation in Taiwan.
Photo: Chen Chih-chu, Taipei Times
In their research, Lindberg said they found that Taiwan had been besieged by the most false information disseminated by foreign governments in the past few years, followed by Latvia, Bahrain, Qatar, Hungary, Yemen, Kosovo and Syria, as well as other countries.
False information can be defined as information "factually or documentarily untrue," but some gray areas exist on the true-untrue spectrum, he said.
The amount of misinformation in Taiwan increased in about 2011, he said, adding that China is a "possible suspect" due to its authoritarian control of information.
Taiwan's government cannot just shut down the Internet, yet the Chinese and Russian governments can, making democratic countries more susceptible to misinformation attacks, he said.
Regarding the level of government dissemination of false information domestically and abroad, China is placed in the "extremely often" category; Taiwan and Japan in the "rarely" category; and the US between the "half the time" and "rarely" categories, he said.
Lindberg said reporters should work harder to check facts before publishing news, especially as social media has become a major source.
There are also fake scientific journals publishing unreliable papers to sway public opinion about issues such as climate change, he said, advising journalists to check with third-party experts before citing a paper.
Governments should work with social media firms to keep false information from circulating, he added.
On Thursday, Lindberg also gave a speech at National Taiwan University's Department of Political Science.
Comments will be moderated. Keep comments relevant to the article. Remarks containing abusive and obscene language, personal attacks of any kind or promotion will be removed and the user banned. Final decision will be at the discretion of the Taipei Times.