INTERVIEW: 'Eye-roll goddess' lambasts Han Kuo-yu's leadership
New Power Party Kaohsiung City Councilor Huang Jie, who became known after rolling her eyes at Kaohsiung Mayor Han Kuo-yu's answers at an interpellation session on May 3 regarding the establishment of a proposed free economic pilot zone, said in an interview with 'Liberty Times' (sister newspaper of the 'Taipei Times') reporters Wang Jung-hsiang, Huang Chia-lin and Chang Chung-yi that Han is a traditional politician: All talk, no action and completely clueless
Liberty Times (LT): What emotion were you conveying — if any — when you rolled your eyes during the interpellation?
Huang Jie (黃捷): To be honest, I was not even aware I had rolled my eyes. It was a very natural reaction, as I felt our mayor was not capable of elaborating on his own policy and was constantly repeating himself. It was aggravating to see such reactions after the promises he made to the people of Kaohsiung.
LT: The Chinese Nationalist Party (KMT) has accused you of not doing your homework regarding pilot zones. Kaohsiung Deputy Mayor Yeh Kuang-shih (葉匡時) cited Unilever as an example of the benefits of pilot zones. What are your thoughts?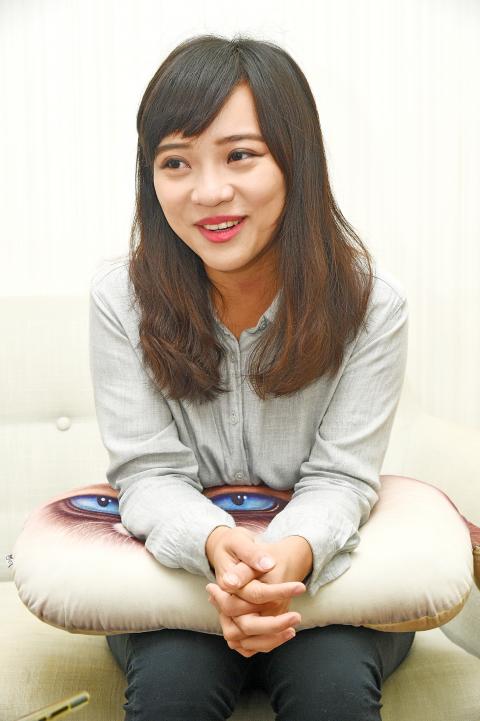 New Power Party Kaohsiung City Councilor Huang Jie speaks during an interview with the Liberty Times in Kaohsiung on Monday.
Photo: Chang Chung-i, Taipei Times
Huang: They are the ones who have failed to do their homework. The pilot zone Deputy Mayor Yeh mentioned is completely unrelated to what the KMT defined. The version proposed by KMT legislators would allow imports of agricultural produce, but Han has said he would now allow [Chinese] agricultural produce. So which version are we going with?
Taiwan-produced tea leaves — which are superior to Chinese leaves — do not need to be sold in the pilot zones. They should instead be marketed worldwide to establish a known international brand and boost its base price.
We do not need to degrade our products and mix in inferior Chinese tea leaves to cut overheads.
Deputy Mayor Yeh's concept of pilot zones is outdated and will only result in Chinese products being "laundered" into Taiwanese products. The KMT has not provided a well-rounded and actionable policy. I would go as far as to say that its pilot zone policy is even less well thought out than the "motel and Ferris wheel" idea.
The policy only has a name. It is like claiming to be pregnant without having a fertilized ovum — and the mayor is talking about it as if the name itself will bring in wealth. That is what I am worried about.
LT: What doubts do you harbor about Han's pilot zone concept?
Huang: I am primarily concerned with whether it would affect local industries. Take the medical industry, for example. If doctors worldwide were to work in a pilot zone, what would happen to local doctors who have undergone rigorous training and painstakingly acquired their certifications?
As for allowing higher education to enter a pilot zone, what would Taiwanese students and professors do if foreign universities could simply operate for profit without observing the University Act (大學法)?
I would say that such things would affect our nation greatly.
LT: What are your views on Han's job performance as mayor?
Huang: The mantra of "get rich, Kaohsiung," which he has been repeating, is based on an unfounded belief in the Chinese market. Should we really think China's politically motivated concessions are the fastest way to achieve economic growth? China's economy is deteriorating. The concessions Beijing has made were designed to compromise Taiwan politically.
At present, the agencies of Mayor Han's municipal government have not even finished compiling their operational reports. The comments Han made are conjured from thin air; they have no correlation with reality.
LT: The mayor's conduct at the council has been discussed. What are your thoughts?
Huang: He shows a poor attitude at council proceedings and is disrespectful to city councilors. He is good at misdirection and shifting the focus. The free economic pilot zone he proposed could have an enormous effect on every sector of Kaohsiung's economy, yet he evades questions about it. Whatever he is asked, he replies in shibboleths like "we will get rich" or "I love Taiwan as much as you."
LT: What do you think about Han's image and why do you think it is wrong?
Huang: On the campaign trail, Mayor Han played up being clean and non-ideological. In fact, he is the embodiment of the traditional politician, sloganeering with the best of them while getting less done than anybody. People like [former presidents] Chen Shui-bian (陳水扁) and Ma Ying-jeou (馬英九) had to earn their political stardom by making coherent narratives and tangible platforms that could be debated. Mayor Han is just an empty shell.
LT: His fans accuse you of not being loving and tolerant.
Huang: I am not going to spar with his fans, whose criticism and suggestions are well-intentioned. As for the mayor, that he accuses councilors of being too rough on him shows that he has refused to take his responsibilities at the city council seriously.
As councilors, we must ask him tough questions, because we have to do our part for Kaohsiung. That is real love and tolerance for you. We are not impeaching him; we ask questions because we are trying to make him do a better job for Kaohsiung.
LT: Your eye roll at the city council has resulted in quite a bit of online fame and the Internet has dubbed you "the eye-roll goddess," among other colorful sobriquets. What do you think about that?
Huang: If the entertainment value of that exchange made the public pay more attention to the real issues — like free-trade zones — then it is a good thing. I try to not think too much about being part of some viral phenomenon. The important stuff is getting things nailed down and me doing the job I am supposed to do; examining the mayor's free economic pilot zone proposal is one of them.
Translated by staff writers Jake Chung and Jonathan Chin
Comments will be moderated. Keep comments relevant to the article. Remarks containing abusive and obscene language, personal attacks of any kind or promotion will be removed and the user banned. Final decision will be at the discretion of the Taipei Times.