Accident comes back to haunt Han
Kaohsiung mayor-elect Han Kuo-yu (韓國瑜) was convicted of negligent manslaughter in connection with a January 2004 traffic accident, and had taken "full legal and moral responsibility" for the incident, Han campaign spokeswoman Hsu Shu-hua (許淑華) said yesterday.
The accident was "not a hit and run" and Han had been given "a two-year probationary sentence" and paid the victim's family NT$4.5 million (NT$145,914 at the current exchange rate), Hsu told a news conference in Taipei.
"The memory of this incident causes Han sadness, but the tragedy was caused by the other party, who was speeding and did not have a driver's license," she said.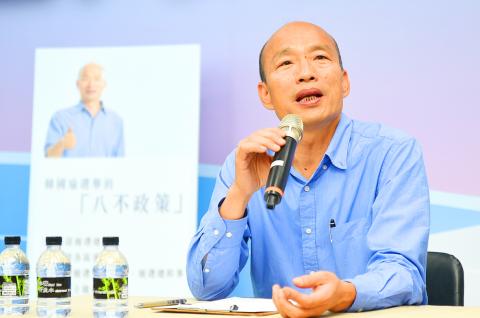 Kaohsiung mayor-elect Han Kuo-yu of the Chinese Nationalist Party (KMT) speaks at a news conference in Kaohsiung yesterday.
Photo: Chang Chung-yi, Taipei Times
The Chinese Nationalist Party (KMT) candidate knew that the Democratic Progressive Party (DPP) had passed information about his criminal record to its candidate, Chen Chi-mai (陳其邁), in the final days of the campaign, she said.
"We applaud Chen for not adding salt to the wounds of the victim's family and competing in the election as a gentleman, but we deplore the DPP for making this an issue now," she said. "The DPP should refrain from using negative information in future campaigns."
The news conference came after online Chinese-language Next Magazine reported that Han was involved in a fatal collision with a motorcycle in Yunlin County 14 years ago.
The motorcyclist, a man surnamed Huang (黃), was badly injured, while his passenger, a man surnamed Pai (白), died of his injuries eight days later, Next said.
Huang was riding a heavy motorcycle, for which he did not have the appropriate license, and going at 90kph, 40kph above the speed limit, it said.
The court found Han guilty for failing to be duly alert, for not slowing down at a flashing red light and not stopping at a crossroad, the magazine said, citing the court ruling, and sentenced him to six months in prison and two years of probation.
The conviction became widely known on Friday last week after a story alleging Chen would run negative ads about a road accident began to circulate on social media, including on Line and the Professional Technology Temple (PTT) online bulletin board.
It is not clear if Han served a six-month term or if he was able to convert it to a longer period of probation.
Han said during a live-interview on SET-TV on Saturday night that he had been involved in a fatal accident, but did not give details, the magazine said.
Pai's mother told Next Media that Han had not been willing to pay compensation beyond the insurance coverage until the Pai family made a request via Han's parents-in-law.
However, she added that she had forgiven him and hopes he does a good job as mayor.
Pai's brother told the magazine that Han did not show up at the settlement negotiations and that the family did not know if the police had given him a sobriety test.
At a separate news conference later in the day in Kaohsiung, Han expressed remorse about the incident, but said that he did not want to elaborate or add to the suffering of the family of the deceased, adding that it had been settled legally.
Also at the news conference, representatives of Russia-based Royal Flight — whom Han had invited to speak — said the airline is to increase its direct flights to Kaohsiung International Airport.
Comments will be moderated. Keep comments relevant to the article. Remarks containing abusive and obscene language, personal attacks of any kind or promotion will be removed and the user banned. Final decision will be at the discretion of the Taipei Times.