2018 ELECTIONS: CEC deals with voting delays, destroyed ballots
As people yesterday lined up at polling stations nationwide to vote, there were some incidents of ballots being destroyed and numerous reports of voting delays because of the massive turnout, resulting in people still waiting in line after the polls were scheduled to close at 4pm.
The Central Election Commission (CEC) announced that voting would continue until those who were in line at 4pm had cast their ballots.
Commission officials attributed the high voter turnout to the warm, sunny weather and heated mayoral and city council races in several of the special municipalities.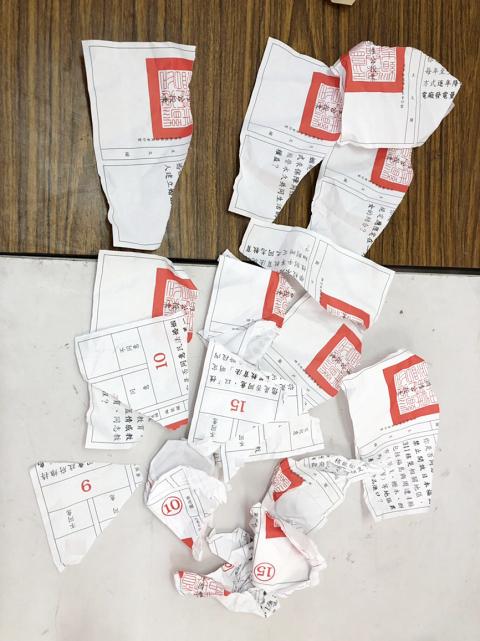 Referendum ballots torn up by a 73-year-old resident of Miaoli County's Dahu Township angered by the number of ballot papers for yesterday's nine-in-one elections and 10 referendums are displayed on a table at the polling station.
Photo: CNA
The combination of the nine-in-one elections and 10 referendums also contributed to lengthy voting waits, officials said.
President Tsai Ing-wen (蔡英文) arrived at her polling station at Sioulang Elementary School in New Taipei City about 8:30am, where she waited in line with other residents for about 30 minutes.
Although her security team was around her, Tsai chatted with those near her in line while they waited.
"This is the mark of a democracy, of people voting to express their will. This is the first time we have so many referendum questions, so voters need to spend a little more time. When more referendum votes are held in the future, then people will be more familiar with the process," Tsai said later.
Hon Hai Precision Industry Co chairman Terry Gou (郭台銘) complained about the long lines, saying he had to wait for about an hour arriving about 11am at his polling station at Dongmen Elementary School in Taipei.
Taipei City Mayor Ko Wen-je (柯文哲) arrived at 10am at his polling station in Songshan District (松山) and waited one-and-a-half hours to vote.
There were still lines of people waiting to cast their ballots as of 6pm in several locations, including Taipei, New Taipei City, Taoyuan and Kaohsiung.
In a dramatic episode, a 62-year-old Kaohsiung resident surnamed Su (蘇) died just after casting her ballots at a polling station in Hunei District (湖內).
She collapsed inside the polling station, and was rushed by ambulance to a local hospital, but could not be revived, and Kaohsiung officials said it appeared she had experienced a stroke.
As of 4pm, 41 incidents of ballots being destroyed had been reported, officials said.
A woman surnamed Yeh (葉) in New Taipei's Sindian District (新店) was questioned after she tore up her 10 referendum ballots.
She would be fined NT$50,000, or NT$5,000 per ballot, for contravening Article 44 of the Referendum Act (公民投票法), officials said.
Three incidents were reported in New Taipei City of people taking cellphones into voting booths, officials said, adding that the two men and one woman were taken in for questioning for contravening the Civil Servants Election And Recall Act (公職人員選舉罷免法), and could face fines of up to NT$300,000.
Comments will be moderated. Keep comments relevant to the article. Remarks containing abusive and obscene language, personal attacks of any kind or promotion will be removed and the user banned. Final decision will be at the discretion of the Taipei Times.