ELECTIONS: Thousands attend Taipei LGBT rally
VOTE 'YES': A number of musicians, filmmakers and politicians showed support for referendums No. 14 and 15 with performances and speeches yesterday
More than 100,000 people, including musicians, filmmakers and politicians, yesterday rallied on Ketagalan Boulevard in Taipei to show support for same-sex marriage ahead of Saturday's referendums on the issue.
"In this last week leading up to the referendums, we hope to encourage more people to vote yes on referendums No. 14 and 15, and to vote no in Nos. 10, 11 and 12," the Gender Equality Education Coalition, which organized the event, said in a statement, referring to five referendums related to LGBT rights that are to be held alongside the nine-in-one elections on Saturday.
Referendum No. 14 aims to legalize same-sex marriage by amending the Civil Code and No. 15 requires that classes on homosexuality be included in compulsory education, while the other three advocate opposing stances.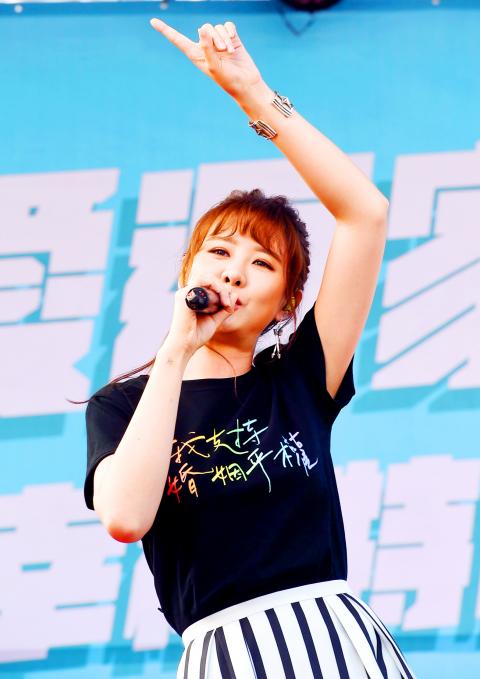 Singer Amber An yesterday performs at a rally on Taipei's Ketagalan Boulevard in support of same-sex marriage.
Photo: Sung Chih-hsiung, Taipei Times
"We hope to protect every family and ensure they are respected equally," the coalition said, adding that the rally was planned with the goals of promoting LGBT rights and "using music to help heal all the pain caused by the increased political polarization and misinformation spread by conservative groups."
The rally featured performances by a dozen musicians from Taiwan and abroad, including Amber An (安心亞), Tai Ai-ling (戴愛玲), Lotus Wang (王彩樺), death metal band Chthonic and Hong Kong singer Takki Wong (王若琪).
Politicians and filmmakers also addressed the rally to express their support. Among them were film director Zero Chou (周美玲), Pegatron Corp chairman Tung Tzu-hsien (童子賢), New Power Party Legislator Freddy Lim (林昶佐), and Democratic Progressive Party legislators Yu Mei-nu (尤美女) and Tuan Yi-kang (段宜康).
Supporters wave rainbow flags during yesterday's rally in Taipei to support a referendum supporting same-sex marriage.
Photo: Tyrone Siu, Reuters
The coalition estimated there were about 30,000 participants when the rally began at 1pm and said the number rose to more than 100,000 by 4pm.
The Council of Grand Justices on May 24 last year ruled that a provision in the Civil Code that defines marriage as between a man and a woman was unconstitutional.
It asked the legislature to legalize same-sex marriage within two years, but did not specify which law should be amended.
Conservative groups proposed a referendum to keep the current definition of marriage in the Civil Code and another referendum to require that the rights of same-sex couples living together be protected by laws other than the Civil Code, citing the need to protect traditional family values.
They also proposed a referendum to ban homosexuality education at elementary and junior-high schools, saying it would protect children from being exposed to information inappropriate for their age. To counter them, pro-LGBT groups launched referendums Nos. 14 and 15.
The Happiness of the Next Generation Alliance and other conservative groups, whose advertisements have been seen on buses and on front pages of major newspapers, reportedly have an advertising budget of more than NT$100 million (US$3.24 million), while the coalition has so far raised just over NT$8 million.
The three referendums proposed by conservatives groups claim to be advocating "love for families," but really promote "discrimination against homosexuality," Taiwan Tongzhi Hotline Association president Hsu Chih-yun (徐志雲) said.
"They have been spreading lies that attack homosexuality and distort gender equality education everywhere. They just want homosexual people to disappear and so many have been hurt in this process," Hsu said.
Legalizing same-sex marriage by amending the Civil Code would ensure same-sex couples enjoy the exact same marriage rights as heterosexual couples, Yu said, adding that requiring education about homosexuality would better protect children from bullying.
Comments will be moderated. Keep comments relevant to the article. Remarks containing abusive and obscene language, personal attacks of any kind or promotion will be removed and the user banned. Final decision will be at the discretion of the Taipei Times.