Streets to be closed for 'Kaohsiunghenge': official
The Kaohsiung City Government is to close off some streets to traffic during "Kaohsiunghenge" on Nov. 11 for residents and visitors to admire the striking view, the city's Tourism Bureau said.
Twice a year in Kaohsiung, the sun sets where it aligns with the city's east-west streets, Tourism Bureau Director Tseng Tzu-wen (曾姿雯) said, adding that a similar effect in Manhattan, New York City — which also has a grid layout — has been nicknamed "Manhattanhenge."
According to Central Weather Bureau forecasts, "Kaohsiung-henge" is to take place at 5:15pm on Nov. 11, she said.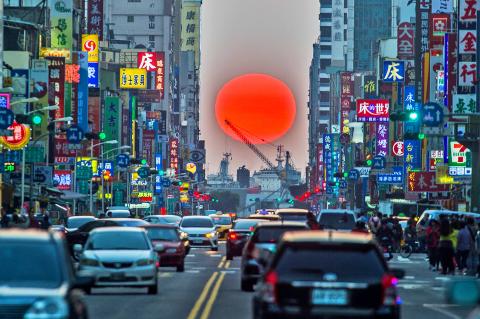 The natural phenomenon of the sun setting in alignment with Kaoshiung's east-west Cingnian Road, known as the "Kaohsiunghenge," is pictured on Jan. 28 last year, the first day of the Lunar New Year.
Photo: Chang Chung-yi, Taipei Times
The city government is to close Section 1 of Cingnian Road between Mincyuan 1st Road and Weiren Street to all vehicles, including Route 11 buses, so that visitors and residents can enjoy the sight safely, she said.
People planning to view the spectacle are advised to use public transportation or to leave their vehicles in the Mincyuan Bridge parking lot or the Sihwei garage facility on Lingya 1st Road, she said.
Under an agreement with the city, the Howard, Ambassador, Han Hsien, 85 Sky Tower and Grand Han-Lai hotels are to charge lower rates for rooms, dining facilities and transportation services from Nov. 8 to Nov. 11, the bureau said.
Guide book publisher Lonely Planet this year recommended Kaohsiung as the fifth-nicest city to visit, she said.
There are other sights to see in the city, including the Baolai Flower Park and Hot Springs in Liouguei (六龜), pleasure cruises down the Love River (愛河) or the Lotus Pond (蓮池潭) in Zuoying (左營), she added.
Comments will be moderated. Keep comments relevant to the article. Remarks containing abusive and obscene language, personal attacks of any kind or promotion will be removed and the user banned. Final decision will be at the discretion of the Taipei Times.