ELECTIONS: CEC raises incentives for poll monitors, volunteers
The Executive Yuan has agreed to increase incentives to polling booth monitors and volunteers for the local elections on Nov. 24, the Central Election Commission (CEC) said yesterday.
The incentives — two compensatory days off instead of one and a higher pay — should facilitate the commission's efforts to enlist volunteers, it said, amid rising concern that the commission and voting station staff would be overwhelmed by the increased workload with the addition of 10 referendum questions to the nine-in-one elections.
The commission is reaching out to universities to recruit students as volunteers, with CEC Chairman Chen In-chin (陳英鈐) encouraging students to participate in the civic process.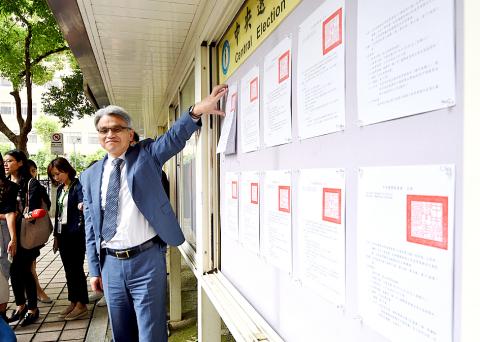 Central Election Commission Chairman Chen In-chin yesterday in Taipei posts official notices of national referendums to be held on Nov. 24, the same day as nationwide local elections.
Photo: Peter Lo, Taipei Times
The only requirement to qualify as a volunteer is that they be a Republic of China citizen, Chen said.
Asked whether having student volunteers would lower student participation in the vote, Chen said volunteers have the option of voting at their registered residences or the voting station where they have been assigned.
The Legislative Yuan last year approved amendments to the Referendum Act (公民投票法) lowering the legal voting age for referendums to 18.
Recruitment results will be announced on a weekly basis, Chen said, adding that the commission's target is to have civil servants and teachers make up half of the polling booth workers with the half being drawn from the general public.
There are to be four ballot boxes: for the nine-in-one election ballot; for referendum numbers 7 to 9; for referendum numbers 10 to 12; and for referendum numbers 13 to 16.
To date, the nation has held six referendums, the first and second held in conjunction with the 2004 presidential election, and the other four during the 2008 presidential election.
The commission said it hopes to conclude all ballot counting before midnight of voting day.
The commission also released a list of the 10 referendums that are to be included in this year's vote: three by the Chinese Nationalist Party (KMT) — two on air pollution and one on banning food products from Fukushima Prefecture; three by the Happiness of the Next Generation Alliance against same-sex marriage and education; two by LGBT support groups on supporting same-sex marriage and education; one on having Taiwan participate in the 2020 Tokyo Summer Olympic Games under the name of Taiwan and not Chinese Taipei; and one on scrapping the "2025 nuclear-free homeland" target.
Comments will be moderated. Keep comments relevant to the article. Remarks containing abusive and obscene language, personal attacks of any kind or promotion will be removed and the user banned. Final decision will be at the discretion of the Taipei Times.