Vice president Chen lauds nation's space program
Vice President Chen Chien-jen (陳建仁) yesterday lauded the success of the nation's space program, affirming the government's commitment to the development of a sustainable aerospace industry.
Chen made the remarks at the opening of a special exhibition hosted by the Presidential Office on the Formosat series of satellites.
Formosat-5, the first satellite designed and manufactured in Taiwan, became operational on Sept. 25 and marked a new milestone in the history of the Taiwanese space program, which began in 1991, he said.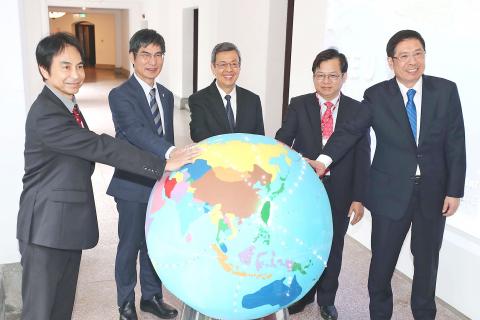 From left, National Space Organization Director-General Lin Chun-liang, Minister of Science and Technology Chen Liang-gee, Vice President Chen Chien-jen, National Applied Research Laboratories President Wang Yeong-her and Presidential Office official David Lee attend the opening of an exhibition on the Formosat series of satellites at the Presidential Office Building in Taipei yesterday.
Photo: CNA
The satellite is a sentinel of Taiwan and the world, he said.
Imaging resolution problems that occurred briefly after the satellite's launch in August last year were resolved by the National Space Organization and the craft — as intended — is engaged in resource-exploration work, geological surveys, and disaster prevention and response missions, he said.
Formosat-1, launched in 1999 and decommissioned in 2004, was Taiwan's first satellite and demonstrated the nation's vision for aerospace technology and technical ability as one of the few states capable of independently developing a complete satellite system, he said.
Formosat-2 was launched in 2004 and was decommissioned after 12 years, he said.
Formosat-3 was a collection of six micro meteorological satellites that were developed by a Taiwan-US program and which are internationally renowned as the most accurate thermometer in space, he said.
Formosat-7 is to focus on surveying low-latitude regions for meteorological data and to supplement Formosat-3 by deploying more advanced equipment, which will provide more accurate and timely weather predictions, he said.
The exhibition at the Presidential Office Building features scale models of the satellites, audio and video displays, and interactive games to introduce each of the nation's satellites and their mission.
The event is designed with young people in mind and Chen hopes it would help foster the nation's next generation of scientists and engineers to work in space exploration.
Comments will be moderated. Keep comments relevant to the article. Remarks containing abusive and obscene language, personal attacks of any kind or promotion will be removed and the user banned. Final decision will be at the discretion of the Taipei Times.