Lawmakers elect 16 conveners for eight Legislative Yuan committees
Lawmakers yesterday elected nine members of the Democratic Progressive Party (DPP), six members of the Chinese Nationalist Party (KMT) and one member of the Non-Partisan Solidarity Union (NPSU) as conveners of the eight legislative committees.
Under the Legislative Committee Organization Act (立法院各委員會組織法), each committee must elect two conveners.
NPSU Legislator May Chin (高金素梅) — who often cooperates with the People First Party and KMT caucuses — was elected convener of the Education and Culture Committee after securing the KMT caucus' support and winning four votes in the committee election.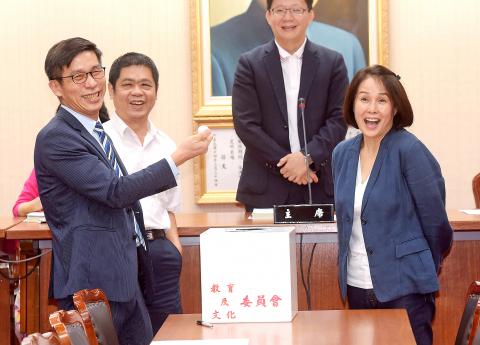 Non-Partisan Solidarity Union Legislator May Chin, right, smiles yesterday in Taipei as she wins the draw to be convener of the Legislative Yuan's Education and Culture Committee.
Photo: Huang Yao-cheng, Taipei Times
She is to cochair the committee with DPP Legislator Chen Ting-fei (陳亭妃).
Chin was originally tied with DPP Legislator Chung Chia-pin (鍾佳濱) after the vote, but emerged the victor after winning in a draw.
It was the first time a member outside the KMT and DPP caucuses was elected as a committee convener since the nation's ninth batch of legislators assumed office in February 2016.
DPP Legislator Chou Chun-mi (周春米) and KMT Legislator Lin Wei-chou (林為洲) are to cochair the Judiciary and Organic Laws and Statutes Committee, which is in charge of reviewing budget requests from the Presidential Office and the Transitional Justice Commission.
DPP Legislator Shih Yi-fang (施義芳) was ousted by KMT Legislator Lai Shyh-bao (賴士葆) in the Finance Committee election by only one vote after DPP Legislator Karen Yu (余宛如) selected the wrong candidate — herself.
Her error was due to her carelessness, for which she apologized to her colleagues, Yu said, adding that she would accept any disciplinary measures by the DPP caucus.
Lai is to cochair the Finance Committee with DPP Legislator Wang Jung-chang (王榮璋).
The DPP caucus dominated the Transportation Committee after DPP legislators Chen Ming-wen and Lin Chun-hsien (林俊憲) beat KMT Legislator Chen Hsueh-shen (陳雪生).
The Foreign Affairs and National Defense Committee Committee is to be headed by DPP Legislator Chiu Chih-wei (邱志偉) and KMT Legislator Ma Wen-chun (馬文君).
The Social Welfare and Environmental Hygiene Committee is to be cochaired by DPP Legislator Wu Kuen-yuh (吳崑裕) and KMT Legislator Arthur Chen (陳宜民), who was tied with DPP Legislator Chen Man-li (陳曼麗), but was selected via a draw.
The Internal Administration Committee is to be cochaired by DPP Legislator Kuan Bi-ling (管碧玲) and KMT Legislator Huang Chao-shun (黃昭順).
The Economics Committee is to be coconvened by DPP Legislator Su Chen-ching (蘇震清) and KMT Legislator Chen Chao-ming (陳超明).
Comments will be moderated. Keep comments relevant to the article. Remarks containing abusive and obscene language, personal attacks of any kind or promotion will be removed and the user banned. Final decision will be at the discretion of the Taipei Times.