Nine charged with stealing millions in columbarium scam
Taipei prosecutors on Thursday indicted the owners and staff of two companies that sold columbarium niches on fraud charges, saying they might have cheated victims out of NT$70 million (US$2.4 million).
Columbaria, repositories for urns containing cremated remains, are often housed in pagoda-like towers, and enable families to conduct ancestral worship rites and memorial services for the dead in line with Taiwanese traditions.
Nine people were indicted as the Taipei District Prosecutors' Office wrapped up an investigation into an alleged scam run by Fu Chuan Living Co (福全生活事業) proprietor Lin Tzu-kang (林子康) and Hung Chan Assets Management Co (宏展資產) proprietor Chiu Yu-ming (邱堉銘).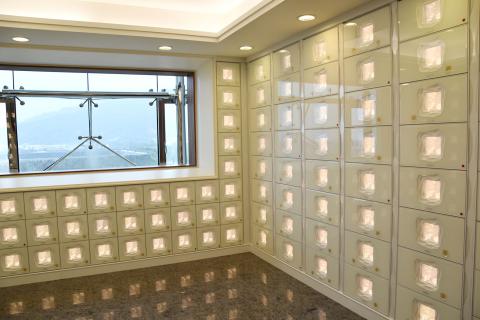 Shelves of columbarium niches are pictured at an actual columbarium in Kaohsiung on Feb. 24, 2016.
Photo: Su Fu-nan, Taipei Times
Lin, Chiu and seven of their employees were accused of falsely claiming that they were selling columbarium niches and swindling some customers out of their life savings.
Investigators found that representatives of the two companies contacted victims about purchasing one or two columbarium niches as final resting places for their elders in 2013.
However, the sales pitch became more vigorous and the representatives convinced their customers to buy more columbarium niches as investments, which could be sold later for a high profit, investigators said.
After paying millions of New Taiwan dollars, buyers said they realized they had been swindled when they received no certificates of ownership and did not get to see the actual structures.
Investigators said that the two companies were dissolved in 2014 and 2015, leaving behind empty offices at their registered business addresses.
Prosecutors took this opportunity to warn the public that scams are rife in the columbarium and funeral service businesses, adding that there have been numerous cases over the past decade.
The office in January indicted 41 people in another scam involving columbarium sales.
Comments will be moderated. Keep comments relevant to the article. Remarks containing abusive and obscene language, personal attacks of any kind or promotion will be removed and the user banned. Final decision will be at the discretion of the Taipei Times.