Graffiti artists transform neglected Taichung building
Taichung-based graffiti collective Escape Plan "X" have decorated the city's Cian Yue Building (千越大樓), which has been in ruins for more than 20 years.
In July last year, the artists were spray-painting inside the building to avoid being caught, when one of the property owners gave them permission to paint the fifth and sixth floors and the rooftop, which used to be a revolving restaurant, the group said.
The property owner gave them the opportunity to bring the building back to life, said the group, which has six members who each specialize in different aspects of graffiti, such as images or writing.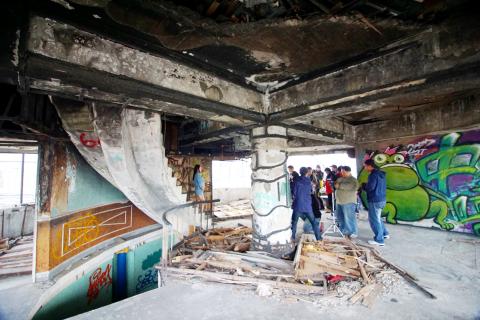 People take photographs inside the abandoned, rubble-strewn and graffiti-decorated Cian Yue Building in Taichung's Central District on Thursday last week.
Photo: Ho Tsung-han, Taipei Times
When they first entered the building, there was no water or electricity, said the group members, who set up the utilities and cleaned the grounds.
The group members started graffiti in Taichung, said their leader Hsieh Mang-hsun (謝孟勳), who is a graduate student majoring in sculpture at National Dong Hwa University's Department of Arts and Design.
All Escape Plan "X" artists have been trained in art or design and they met sharing their work online, Hsieh said.
Since graffiti is not generally socially accepted, the group has often been reported to police for their work by local residents, Hsieh said, adding that this is why the group was named Escape Plan "X."
Hsieh said he discovered that if graffiti was of a higher quality, people were less likely to report it.
Usually only messy graffiti is reported, Hsieh added.
There is a difference between freehand graffiti and artistic graffiti, Hsieh said.
Only people professionally trained in fine arts know how to apply artistic concepts to graffiti and can become artists, Hsieh said.
If people are spraying freehand, that is destructive, Hsieh said.
Hsieh said he does not like seeing images of Totoro or the Japanese comic book series One Piece, which have been painted in some villages.
Without authorization, it is plagiarism, Hsieh added.
On Dec. 30 last year, the group hosted an electronic music concert on the building's rooftop with DJs, rappers and about 400 guests.
Escape Plan "X" said it hopes the building can become a legal graffiti site, like the former 5 Pointz: The Institute of Higher Burnin in New York, where the movies Now You See Me and Step Up filmed scenes.
Hsieh said he hopes more artists will work at the Cian Yue Building.
In 2016, the owners of the building formed an urban renewal association and proposed reconstructing the complex, but some rejected the project, saying that it could continue to be used after renovations.
Discussions of an urban renewal project are ongoing.
Comments will be moderated. Keep comments relevant to the article. Remarks containing abusive and obscene language, personal attacks of any kind or promotion will be removed and the user banned. Final decision will be at the discretion of the Taipei Times.