PROFILE: Academic puts Taiwan on fish map
With two fish species named after him, Ho Hsuan-ching has won plaudits for his research and showcasing the rich diversity of marine life in Taiwan
A young associate researcher at the National Museum of Marine Biology and Aquarium has been making a name for himself and the country in the field of ichthyology, with two species named after him and having participated in the discovery of hundreds of new fish species in Taiwan.
Ho Hsuan-ching (何宣慶), 39, said he was able to discover so many new fish species by visiting markets around Taiwan.
Taiwan's fish markets used to favor larger fish, while most of the small and medium-sized ones were either not sold or turned into fish balls, Ho said.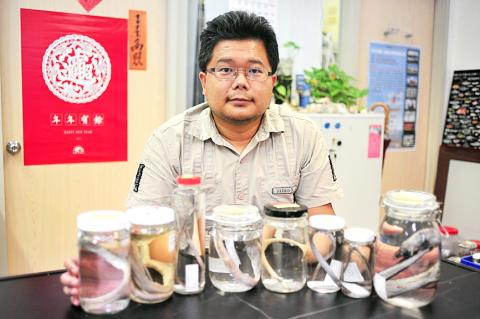 National Museum of Marine Biology and Aquarium associate researcher Ho Hsuan-ching displays preserved marine life species from his research collection on Oct. 27 in Pingtung County.
Photo: Tsai Tsung-hsien, Taipei Times
However, as fishery resources have declined, many types of fish that would not have been sold in the old days have found their way into local markets, he said.
"The rich variety of marine life around Taiwan is well known across the world," said Ho, who has over the past decade found 30 new fish species in markets in Yilan's Dasi District (大溪), Yilan County's Nanfangao Township (南方澳), and Pingtung County's Donggang (東港) and Hengchun (恆春) townships.
Ho said he has also headed or participated in research that has documented more than 300 species of fish in Taiwan.
In 2005, Ho met with famed ichthyologist Margaret Bradbury in the US to consult her about classification of fish species. Bradbury, who had retired from teaching, gave him two large stacks of her research materials.
Ho said he returned the following year with his research results based on Bradbury's data.
"Her eyes glowed," when she saw his research, Ho said.
Bradbury passed away a few years later, Ho said.
To his suprise, he learned that her epitaph read: "An unexpected young man appeared to continue her research. That man was Ho Hsuan-ching."
That made him feel that he was now responsible, as many people are "waiting for one man's research," Ho said.
While he has always taken pleasure in raising fish, Ho said he was embarrassed to admit that even with a degree in aquaculture, he usually ended up with a tank of dead fish.
"I felt that, rather than turning live fish into dead ones, I would be better off researching dead ones to begin with," Ho said.
His love for fish has not diminished even though he now studies dead ones, Ho said, recounting one incident when he spent an entire night looking for the scientific name of a particular type of fish and his professor found him asleep on the floor of the research room the following morning.
Commenting on the two fish species named after him — the Pylorobranchus hoi and the Parapercis hoi — Ho said that the researchers were too kind.
The Pylorobranchus hoi was actually discovered by students led by professor Chen Hung-ming (陳鴻銘) of National Taiwan Ocean University in 2012, and he had been asked to ascertain whether it was a new species, Ho said.
He invited John McCosker, a California Academy of Sciences expert on ichthyology who was visiting Taiwan at the time, to help with the analysis.
He said he did not expect that Chen and the students would name the fish after him.
As for the Parapercis hoi, Ho said he had been working with the Queensland Museum in Australia's Jeff Johnson since 2015 and was surprised when he learned that Johnson named one after him when he published five new species this year.
Ho has published more than 65 new fish species worldwide in his career and expects that number to rise to 75 by the end of this year.
He ranks second in Taiwanese academia for the number of fish species discovered.
A lack of information was one reason Taiwan was easily overlooked in the study of plant and animal life, he said.
It was not until the Indo-Pacific Fish Conference in 2005 that the world discovered Taiwan's rich biodiversity, he said.
He and other Taiwanese academics have dedicated their efforts to increasing the nation's global visibility through its fish species, Ho said.
Ichthyology is one area where political intervention is minimal, he added.
Ho's studies on anglerfish have helped increase Taiwan's visibility internationally, as information on anglerfish in fish atlases published by the Food and Agriculture Organization and other nations all carried his name.
"The name Taiwan is used in these books and it would never be mistaken for China," Ho said, adding that he hopes to let more people learn the importance of marine conservation through education and discovery of new fish species.
Comments will be moderated. Keep comments relevant to the article. Remarks containing abusive and obscene language, personal attacks of any kind or promotion will be removed and the user banned. Final decision will be at the discretion of the Taipei Times.