'Days We Stared at the Sun' sequel launched on PTS
The Public Television Service (PTS) on Saturday began broadcasting the sequel to its award-winning mini-series Days We Stared at the Sun (他們在畢業的前一天爆炸), which delves into teenage angst as a group of teenagers transition into adulthood.
The mini-series was directed by Cheng Yu-chieh (鄭有傑).
One of the protagonists, Chen Hao-yuan (陳浩遠), is a "good" student who becomes best friends with Hung Cheng-yi (洪成揖), a juvenile delinquent who tries to rob a bank with a toy gun. Their lives are turned upside down by a lawmaker and his loan sharks, and the two friends obtain a real gun and try to do something extreme before their high-school graduation.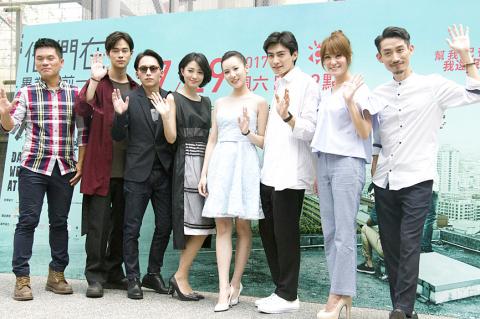 The cast of a sequel to award-winning Public Television Service mini-series Days We Stared at the Sun pose on Tuesday last week in Taipei.
Photo: CNA
The drama won Best Mini-series or Television Film at the 2011 Golden Bell Awards in Taiwan, as well as Best Screenplay, Best Actor, Best Supporting Actor and Best Supporting Actress in a Mini-series or Television Film.
The sequel, Days We Stared at the Sun II, portrays the lives of the protagonists seven years later as they try to remain true to themselves and to effect change as adults.
Cheng said he hopes the series, which tells the story of contemporary Taiwanese youth, would spur viewers to remember their own youth.
At last week's premiere, PTS chairperson Tchen Yu-chiou (陳郁秀) said while the 2010 series was about growing pains and generational conflict, the sequel is about individuals clashing with the system.
The protagonists "epitomize life in Taiwan over the past seven years," she said.
Wang Ting-chu (王丁筑), who plays Chen's girlfriend who is a singer, said the original series and the sequel touch on social issues that resonate with people.
She said she hopes that the series will plant a seed in viewers' hearts, allowing them to face their problems more honestly and not be afraid to talk.
The six-part series airs on Saturdays at 9pm.
Comments will be moderated. Keep comments relevant to the article. Remarks containing abusive and obscene language, personal attacks of any kind or promotion will be removed and the user banned. Final decision will be at the discretion of the Taipei Times.