First fully Taiwanese-designed satellite to be launched on Aug. 25
FIVE-YEAR MISSION: The launch of Formosat-5 was originally planned for last year, but postponed after a failed rocket test by SpaceX
The nation's first domestically designed satellite, Formosat-5, is to be launched on Aug. 25 in the US to resume the observation missions of the decommissioned Formosat-2, the Cabinet said yesterday.
The satellite would collect data for natural disaster evaluation, national security, environmental monitoring, international rescue operations and scientific research, National Space Organization (NSPO) Director Chang Guey-shin (張桂祥) said.
Formosat-2 was decommissioned in August last year after being used in 343 disaster response missions such as providing authorities with immediate images of damaged areas during the Tohoku earthquake and tsunami in Japan in 2011, Chang said.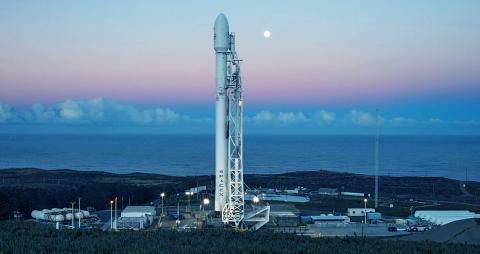 The site in California where Formosat-5 is to be launched using a SpaceX Falcon 9 rocket on Aug. 25 is pictured in an undated handout photograph.
Photo courtesy of the Ministry of Science and Technology
The 450kg Formosat-5 is the first project in which the NSPO was fully responsible for all engineering, including payload, imaging sensors and ground control systems.
Formosat-5 is to carry the first locally made optical remote sensing instrument equipped with the world's first space-grade metal oxide semiconductor image sensor, which the organization developed in cooperation with the nation's electronics and semiconductor industries.
The satellite cost about NT$5.65 billion (US$186 million) to make and is to embark on a five-year observation mission around the globe.
The satellite's launch was initially scheduled for October last year. A failed rocket test in September last year at SpaceX, the US company commissioned to launch Formosat-5, delayed the launches for all its customers, among which was the NSPO.
SpaceX is contractually required to pay 1.25 percent of the contract amount — about NT$700 million — for every month's delay, Chang said, adding that the company is expected to pay 10 percent in compensation.
The Formosat-7 program, a follow-up Earth observation mission in which Taiwan is cooperating with the US National Oceanic and Atmospheric Administration, is to launch a constellation of 12 mission-specific satellites plus one NSPO-built satellite to perform radio occultation studies of the upper atmosphere, the NSPO said.
The first constellation of the Formosat-7 program, consisting of six satellites, is expected to be launched next year, the office said.
Comments will be moderated. Keep comments relevant to the article. Remarks containing abusive and obscene language, personal attacks of any kind or promotion will be removed and the user banned. Final decision will be at the discretion of the Taipei Times.