School sorry over faked interview
LEGEND IN HIS OWN MIND: One student apparently pretended to be his friend because the subject wanted to stay in the classroom and play 'League of Legends'
Taipei Municipal Jianguo High School yesterday apologized on behalf of a student — who has been admitted by National Taiwan University's College of Medicine — for allowing a classmate to pretend to be him in an interview with reporters.
Chao Wen-chieh (趙文傑), a third-grader at the high school, was on Monday admitted by the university through a Ministry of Education program that grants top-performing students at high schools an opportunity to enter their preferred universities following interviews instead of taking the college-entrance exam.
Jianguo, Taipei's leading boys' high school, on the same day arranged for Chao to be interviewed by reporters regarding his thoughts on entering college.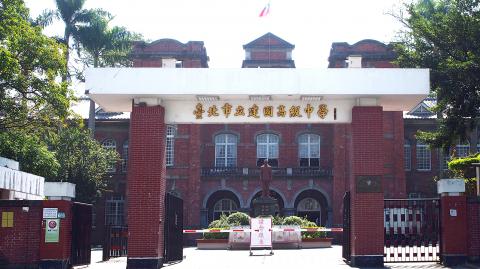 Taipei Municipal Jianguo High School is pictured yesterday. The school issued an apology yesterday after a student gave an interview with the media on Monday in the name of a classmate who has been admitted to National Taiwan University.
Photo: Tsai Ya-hua, Taipei Times
However, after videos and photographs of the interview began circulating on the Internet, other students at the school soon discovered that the interviewee was actually Chao's classmate, Chou Chan-fan (周展帆).
Chou on Monday told reporters that he was inspired to apply to the College of Medicine because he found the reactions of animals he dissected in class, such as frogs, fascinating.
Chou on the same night on Facebook posted a photograph taken by the Chinese-language Apple Daily of him wearing Chao's uniform and posing next to other Jianguo students who also passed interviews.
He said on Facebook that he gave the interview in Chao's place because Chao wanted to stay in the classroom and play the online game League of Legends.
The journalist responsible for the interview reportedly received a demerit for not checking the facts.
The incident received widespread attention when other Jianguo students disclosed the prank on Facebook and Professional Technology Temple (PTT), the nation's largest online academic bulletin.
Jianguo yesterday issued an apology on behalf of the two students, saying that it bore full responsibility for not having verified the interviewee's identity and for the negative impact the incident has caused society and the media.
It would refrain from punishing Chao and Chou, but would provide them with counseling and pay more attention to students' morals and their character development, the school said.
Chou earlier yesterday on Facebook apologized to "those pressured or punished" as a result of his behavior.
"The consequences were something I could not have imagined," he said.
Comments will be moderated. Keep comments relevant to the article. Remarks containing abusive and obscene language, personal attacks of any kind or promotion will be removed and the user banned. Final decision will be at the discretion of the Taipei Times.