KMT-sponsored poll finds most against government moves on Chiang Kai-shek
SLIGHT BIAS? A question asked if the government's policies on undertaking transitional justice were 'manufacturing social conflicts and opposition'
The majority of Taiwanese are against the Democratic Progressive Party (DPP) government's decisions to remove souvenirs bearing Chiang Kai-shek's (蔣介石) likeness from stores at the Chiang Kai-Shek Memorial Hall in Taipei, to close the memorial on the anniversary of the 228 Incident or to remove statues of Chiang, a Chinese Nationalist Party (KMT)-commissioned poll released yesterday showed.
A poll conducted for the party by the TrendGo Survey Research Co found that 60.4 percent of respondents said they did not approve of the government's removing statues of Chiang around the nation or products carrying his likeness from the memorial on the grounds that "Chiang had been an authoritarian ruler," the party said.
Only 17.7 percent of respondents supported the moves, while 21.8 percent had no opinion, the KMT said.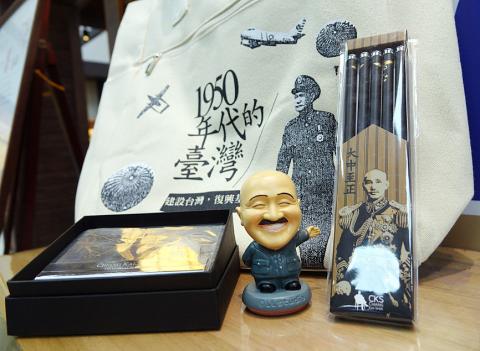 Some products related to former president Chiang Kai-shek are on display on Feb. 25. Many of the products have been removed from the Chiang Kai-shek Memorial Hall in Taipei.
Photo: Chen Yi-chuan, Taipei Times
The government has been ignoring vital issues concerning the economy to focus on political feuds and ideological wars in the name of transitional justice, the KMT said.
"The KMT calls on President Tsai Ing-wen (蔡英文) to desist while she is still able to do so and not to trample on the public's trust," the KMT said.
"Chiang was not a murderer, nor was he the mastermind of the 228 Incident, but the principal warrior that safeguarded Taiwan," the party said.
The 228 Incident refers to a crackdown launched by the then-KMT regime following demonstrations that followed an incident in Taipei on Feb. 27, 1947.
The Incident marked the beginning of the White Terror era, during which thousands of Taiwanese were arrested, imprisoned and/or executed.
Asked if the DPP government's policies on undertaking transitional justice were "manufacturing social conflicts and opposition," 51.6 percent of the respondents said yes, while about 31.5 percent said that they would promote social conciliation and solidarity and 17 percent had no response.
"The KMT supports the idea of 'restoring historical truth,' but facts must be respected and the historical context and processes should be taken into serious account rather than launching political vendettas against deceased figures," the KMT said.
"It is a convention that achievements and misdeeds [of political figures] are determined by historians and the public. The DPP's transitional justice aims to manufacture conflicts and violates the basic requirements and logic of true transitional justice," the KMT said.
The poll collected 1,101 samples and has a margin of error of 2.95 percentage points.
Comments will be moderated. Keep comments relevant to the article. Remarks containing abusive and obscene language, personal attacks of any kind or promotion will be removed and the user banned. Final decision will be at the discretion of the Taipei Times.