Report accuses DPP councilor of beating wife
A magazine story yesterday alleging that Democratic Progressive Party (DPP) Taipei City Councilor Tung Chung-yen (童仲彥) physically assaulted his wife sparked calls from his colleagues that he be ejected from the party.
The Chinese-language Next Magazine reported that Tung, 43, has a track record of violence against his wife, Lee Hsiu-huan (李秀環).
The story came after Lee last week was reported to be romantically involved with another man and had not returned home for months.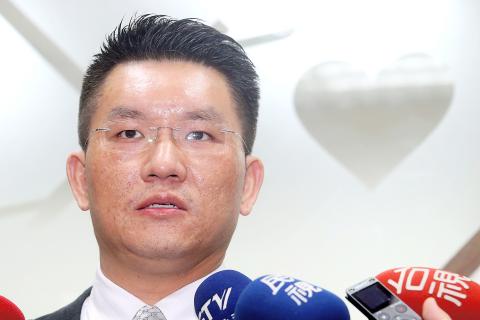 Democratic Progressive Party Taipei City Councilor Tung Chung-yen speaks at a news conference in Taipei yesterday.
Photo: CNA
Lee was quoted by Next Magazine as saying that she had not returned home because she had been "driven away" by Tung, after late last year she discovered her husband had been texting his New Taipei City office director, a 41-year-old woman named Chiu Hui-mei (邱惠美), with whom she said Tung had "frequent contact," including an overnight stay at Tung's home.
Lee was quoted by the magazine as saying that Tung had physically assaulted her more than 50 times since they were married in 2011.
She showed pictures of her lying on a hospital bed, her face swollen and her torso covered with bruises, as well as video surveillance footage of Tung hitting her as evidence of the allegations.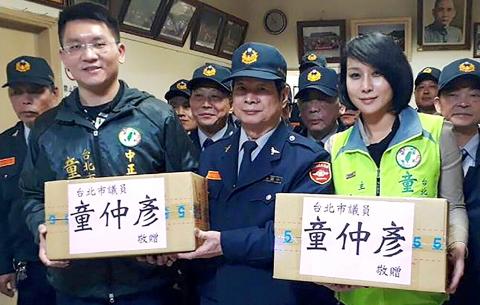 Democratic Progressive Party Taipei City Councilor Tung Chung-yen, left, and Chiu Hui-mei, his office director, hold boxes in an undated photograph taken from Tung's Facebook page.
Screengrab from Tung Chung-yen's Facebook page
In one of the most violent incidents, Tung punched her in the head and broke several of her ribs, which caused a lung to collapse and put her in a coma for three days, the magazine quoted her as saying.
Lee was quoted as saying that the reason she has not divorced Tung was that he would beg for forgiveness after each assault.
Tung's DPP colleagues expressed anger and astonishment at the reports.
"If this is true, then it is more than an issue of a personal relationship... It is clear proof of a warped character," DPP Legislator Tuan Yi-kang (段宜康) said.
Tung yesterday said that he was attracted to Chiu.
Asked if he would file for divorce, Tung said he would respect Lee's decision.
He said he had "grabbed and pushed" his wife and that he would own up to his mistakes, but declined to confirm Lee's allegations.
Tung said he would respect the party's decision on whether to expel him over the allegations.
Tung's comment about Chiu also elicited discussion among netizens.
"Councilor Tung, I will sue you over libel for implying that I am not a male," said a netizen, in reference to Tung's remarks yesterday that "if a male sees Chiu and does not fall for her, he cannot be called a man."
Comments will be moderated. Keep comments relevant to the article. Remarks containing abusive and obscene language, personal attacks of any kind or promotion will be removed and the user banned. Final decision will be at the discretion of the Taipei Times.