Hung urges scrutiny of KMT election
CAMARADERIE The KMT has 887,861 party members, but only 226,783 are eligible to vote in the chairperson election, which so far has four confirmed candidates
Chinese Nationalist Party (KMT) Chairwoman Hung Hsiu-chu (洪秀柱) yesterday pledged to hold a fair and just KMT chairperson election, urging party members to subject the next race to the most stringent scrutiny.
Hung, who is on a seven-day visit to the US as part of her efforts to raise funds for the cash-strapped KMT, made the remarks during a forum with Taiwanese expats in San Francisco on Saturday.
"We must hold this [KMT chairperson] election in the most fair, just and open manner possible. Hopefully through this race, we could create an electoral culture of sportsmanship and fair play within the party," Hung said.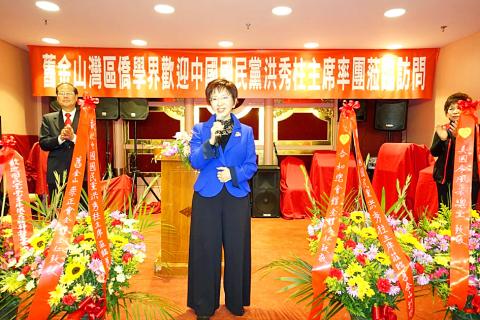 Chinese Nationalist Party (KMT) Chairwoman Hung Hsiu-chu speaks at a forum with Taiwanese expats in San Francisco on Saturday during a seven-day visit to the US.
Photo: Lin Liang-sheng, Taipei Times
Hung said she hoped that each candidate running for the party's leadership in the May 20 race could clearly demonstrate their ideals and cross-strait policy direction, allowing party members to make the best judgements possible.
As the incumbent leader of the KMT, Hung vowed to ensure fairness in the election and urged all party members to scrutinize the race under the strictest standard.
Hung's comments came amid allegations that some of the candidates have sought to increase their chances of victory by recruiting "dummy party members."
So far, four people have thrown their hats into the ring: Hung, KMT Vice Chairman Hau Lung-bin (郝龍斌), former vice president Wu Den-yih (吳敦義) and Taipei Agricultural Products Marketing Co general manager Han Kuo-yo (韓國瑜).
The KMT, as of Monday last week, had 887,861 members, of whom only 226,783 are eligible to vote in the chairperson election, KMT data showed.
Expressing gratitude for Taiwanese expats' consistent support of the KMT even during the party's difficult times, Hung said most of the people she had encountered in the US had expressed their support for and expectations of the party.
"Each and every comrade understands the predicament the KMT is facing right now and are willing to send coal to the party during snowy weather. I am deeply touched by their adamant support of the KMT," Hung said.
The party has been in dire financial straits since the Ill-gotten Party Assets Settlement Committee, established by the Executive Yuan in August last year, began efforts to recover party assets illegally acquired by the KMT during its party-state rule.
Comments will be moderated. Keep comments relevant to the article. Remarks containing abusive and obscene language, personal attacks of any kind or promotion will be removed and the user banned. Final decision will be at the discretion of the Taipei Times.